MOTLEY'S CREW "PISSES" OFF OPENING BAND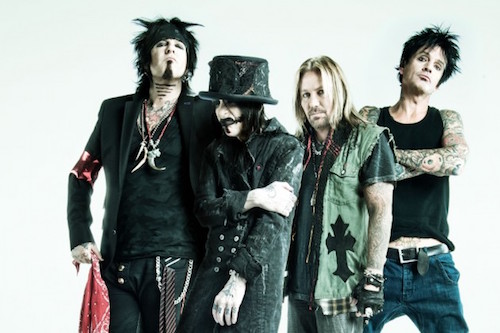 Kathianne Boniello of the New York Post reports:
Touring with Mötley Crüe left this pair of Big Apple rockers feeling rather pissy, they claim in a new lawsuit.
Logan and Roger Raskin, of the Manhattan group The Raskins, claim their "once in a lifetime" chance to open for the Crüe during a 2014 tour was sabotaged by months of hazing — including getting blasted with urine on stage.
At a stop in Darien, Conn., crew members ran out on stage in monkey masks and sprayed the Raskins "with water guns filled with urine," the brothers claim in their $30 million Manhattan Supreme Court suit.
The Raskins also claim they were forced to play short sets in mostly empty venues after managers often refused to open the doors for shows; the public address system was turned off or interfered with during their shows; they weren't allowed to sell merchandise or give them dressing rooms; and they were hit with heavy equipment.
The Raskins paid $1 million to join the tour and had a contract negotiated by Artist Group International, but it wasn't honored, the rockers claim in a Manhattan Supreme Court lawsuit which names Tenth Street Entertainment, AGI and other production companies.
Tenth Street, Artist Group International and the other defendants did not return messages.
source: nypost.com