LOUDWIRE RECAPS THE "BOWL 4 RONNIE" EVENT, SINGER JEFF SCOTT SOTO SAID HE HOPED TO BOWL BETTER AS "NUNO BETTENCOURT [AND I] SUCKED [LAST YEAR]"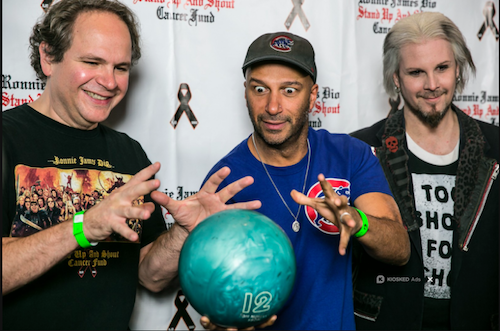 Chad Childers of Loudwire reports:
On November 4th, the second annual Bowl 4 Ronnie event, sponsored by the Ronnie James Dio Stand Up And Shout At Cancer Fund, at the Pinz Bowling Center in Studio City, California.
The event started with a red carpet introduction for those participating along with a VIP hang upstairs. Those in attendance were invited to bowl, eat and drink before the actual tournament started at 9PM. The Bowl 4 Ronnie emcee for the night, SiriusXM Volume host Eddie Trunk, fielded one of the teams, welcoming back Tom Morello and Jeff Scott Soto from his team last year and pulling in John 5, Tim "Ripper" Owens and Rock Feinstein. Morello came ready to roll, arriving on the scene with his own ball and bag.
"I would not miss this event because I'm such a huge fan of Ronnie James Dio. I miss him. I only knew him very casually, but I miss his music so much, so I'm here to support his memory and his spirit and do anything I can to stop cancer from claiming any other great people. I'm here to do anything I can. And I brought my own damn bowling ball. None of these other metal dudes bring their own ball. I know what's up," laughed Morello.
Meanwhile, Soto was hoping for a better outcome than last year, telling us, "I've practiced a little bit. Last year was a catastrophe, me and Nuno [Bettencourt] sucked, so this year, it's redemption." Trunk also was looking for redemption, sharing, "I don't want to make excuses, but I did pull a muscle after my first roll [last year] and I was in pain for the rest of the night and Morello hasn't let me live it down."
…Before the tournament, Eddie Trunk led the presentation of a $25,000 check to UCLA, helping to further the research of Dr. David Wong, who is developing a non-invasive saliva test for early cancer detection. Wendy Dio spoke to the crowd of the importance of getting checked for cancer regularly, especially for the males on hand who typically are less likely to visit the doctor.
"The saliva tests will help for men's cancer, which is what ours is all about. Breast cancer has come a long, long way since it started and so much research has been done, and now it's going really well, and we want to do that for stomach cancer, gastric cancers, colon cancer, pancreatic cancer, prostrate cancer, because these cancers don't have enough money being given to research," stated Dio. "But we have to bring attention to it because more and more people are dying, especially men, because they don't get checked. Women are going to get checked, but men, you've got to drag 'em there. Early detection saves lives, so please get yourself checked."
Read more about the event at Loudwire.
source: loudwire.com