MICHAEL SCHENKER GROUP HONORS RONNIE JAMES DIO AND RAINBOW'S "RISING" WITH NEW SONG "A KING HAS GONE"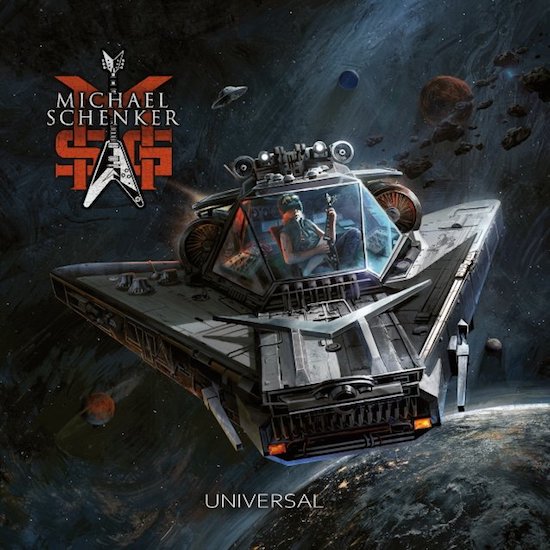 Michael Schenker Group, has released a new single, A King Has Gone. The track and its intro, Calling Baal, are available on the band's forthcoming album Universal, both have a special significance: sung by Helloween frontman Michael Kiske, it is a tribute to the immortal Ronnie James Dio, in particular to his performance on the 1976 hard rock classic Rainbow Rising. For this reason, Michael Schenker has brought together an original Rainbow rhythm section consisting of Bobby Rondinelli and Bob Daisley. Schenker additionally enlisted keyboardist Tony Carey, who also played on Rising, for the terrific Moog synth intro Calling Ball — a direct reference to the iconic intro of the 1976 album opener Tarot Woman.
Listen to A King Has Gone below.
To read more details about, Universal, which will be released on May 27th, please click here. To listen to the previously released song, Emergency, please go here.
As previously reported MSG will also be hitting the road, the tour dates are as follows.
With Eric Martin, Images Of Eden:
Sep. 27 – The Coach House – San Juan Capistrano, CA
Sep. 28 – Goldfield Trading Post – Roseville, CA
Sep. 29 – Great American Music Hall – San Francisco, CA
Oct. 1 – Saban Theater – Los Angeles, CA
Oct. 2 – Count's Vamp'd – Las Vegas, NV
Oct. 4 – Oriental Theater – Denver, CO
Oct. 6 – Pop's – Sauget, IL
Oct. 7 – Des Plaines Theater – Des Plaines, IL
Oct. 8 – Arcada Theater – St. Charles, IL
Oct. 9 – Pabst Theater – Milwaukee, WI
Oct. 11 – The Art Theater – Hobart, IN
Oct. 12 – Piere's – Ft. Wayne, IN
Oct. 14 – The King Of Clubs – Columbus, OH
Oct. 15 – Agora Theater – Cleveland, OH
Oct. 16 – Harpo's – Detroit, MI
Oct. 17 – Jergels – Pittsburgh, PA
Oct. 19 – The Vault – New Bedford, MA * MSG only
Oct. 20 – Flying Monkey – Plymouth, NH
Oct. 21 – Cabot Theater – Beverly, MA
Oct. 22 – Sony Hall – New York, NY
Oct. 23 – Newton Theater – Newton, NJ
Oct. 25 – Keswick Theater – Glenside, PA
Oct. 26 – Tally Ho – Leesburg, VA
Oct. 27 – Sherman Theater – Stroudsburg, PA
With Damon Johnson & The Get Ready, Images Of Eden:
Oct. 29 – Bogarts – Cincinnati, OH
Oct. 30 – Brooklyn Bowl – Nashville, TN
With W.A.S.P., Armored Saint:
Nov. 2 – White Oak Music Hall – Houston, TX
Nov. 3 – Concrete Street Pavilion – Corpus Christi TX
Nov. 4 – Eaton Arena – San Antonio, TX
Nov. 5 – Amplified Live – Dallas, TX
Nov. 6 – Tulsa Theater – Tulsa, OK
MSG U.S. tour 2022 lineup:
Michael Schenker – lead guitar
Ronnie Romero – vocals
Bodo Schopf – drums
Steve Mann – keyboards, guitars
Barend Courbois – bass