MICHAEL SCHENKER DISCUSSES HIS CAREER AND SAYS, "I WAS SHOCKED WHEN I FOUND OUT HOW MANY GUITARISTS NAMED ME AS A FAVORITE GUITARIST"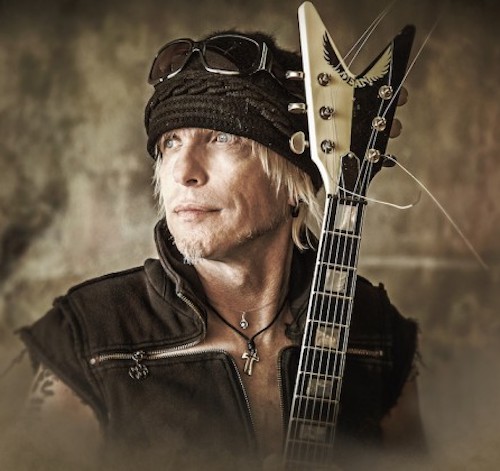 Greg Prato of the Long Island Pulse spoke with guitar icon Michael Schenker. The interview appears in its entirety below.
Long Island Pulse: Let's discuss the new album.
Michael Schenker: At some point recently, I said to Temple of Rock, "We need a break; we've been touring for four or five years." I was asking myself, "What should I do?" And it popped in my mind that I have been doing the most popular music of Michael Schenker for the last few years, but it was all sung by other singers. I realized this is a certain part of my life, the third stage of my life, and it is celebration time. This is the time for me to perform with the original singers.
Long Island Pulse: What do you mean by the "third stage" of your life?
Michael Schenker: My life comes in three stages. The first stage is my musical contribution unconsciously to the world…I experienced fame and success at its highest, and I was able to, very early in my life, make a decision if I wanted to carry on holding on to fame, or to start the second chapter and experiment with music. I was boiling with energy and creativity. I wanted to do all sorts of funny stuff and I thought it would be better to be on my own to do that. That's when I started my middle years, my second part of my life, and started the Michael Schenker Group. That prepared me for today, my third stage of my life—to [record] with four singers and perform my most popular music. I had always had stage fright, and in 2008, out of the blue, I couldn't believe it, I wanted to be on stage. A 180 degree change. I took that as a sign to continue where I stopped with Strangers in the Night [UFO's 1979 live album] and Lovedrive [the Scorpions' 1979 studio album]. Since 2008, I just went forward, and am enjoying the third part of my life.
Long Island Pulse: Metallica's Kirk Hammett plays on the song Heart and Soul.
Michael Schenker: Peter Mensch told me when he began managing Metallica that I am Kirk Hammett's favorite guitarist. Kirk always wanted to connect with me, but he never really had the courage to. Eventually, they put something together on That Metal Show with Eddie Trunk and invited me to jam with Kirk without rehearsal and we did an interview together. He is a fan and became a friend, and he plays in the biggest band in the world. I said, "Kirk, do you want to do this?" And he said, "I'd love to." But he wanted to record it at his own studio in Hawaii, so his management paid for Michael Voss, our co-producer, to fly over there. We left the holes where we wanted him to play his parts. They sent me pictures. Kirk looked like a happy 19-year-old. [Laughs]
Long Island Pulse: I interviewed you a while back for a book Shredders and countless guitarists I also spoke to listed you as an important influence. How does it feel to hear you are an inspiration for other musicians?
Michael Schenker: I never wanted to be famous. I always just was fascinated with a single string, the art of lead guitar with pure self-expression. I never expected any award or anything. I was shocked when I was presented with my first award. And I was shocked when I later found out how many guitarists named me as a favorite guitarist, and how much I influenced the rock n' roll scene…I was always aware that I was not a trend follower, but I did not know that I was a trend-maker.
Long Island Pulse: What can fans expect at the upcoming show at Irving Plaza?
Michael Schenker: It's a fantastic set. It's classics, classics, classics and some new songs. It's the most popular music of Michael Schenker, and it's a very well-balanced set. It's a two-and-a-half hour show with four singers. There is something for everybody.
Michael Schenker Fest's Resurrection is out today (March 2nd) through Nuclear Blast.
Michael Schenker Fest's remaining North American Tour Dates are as follows;
Mar 6 The Fillmore Silver Springs, MD
Mar 7 Carnegie Music Hall Munhall, PA
Mar 9 Berklee Performance Center Boston, MA
Mar 10 Irving Plaza New York, NY
Mar 11 Theatre of Living Arts Philadelphia, PA
Mar 12 Club Soda Montreal, QC CAN
Mar 14 Royal Oak Music Theatre Detroit, MI
Mar 16 Agora Theatre Cleveland, OH
Mar 17 Concord Music Hall Chicago, IL
Mar 18 Pabst Theater Milwaukee, WI
Mar 19 Cabooze Minneapolis, MN
Mar 22 Neptune Theatre Seattle, WA
Mar 24 City National Civic of San Jose San Jose, CA
Mar 25 City National Grove Anaheim, CA
Mar 26 Marquee Theatre Tempe, AZ
Mar 27 House of Blues Las Vegas, NV
Mar 29 Cervantes Ballroom Denver, CO
Mar 31 Vibes Event Center San Antonio, TX
Apr 1 Bomb Factory Dallas, TX
Apr 3 The Ritz Tampa, FL
source: lipulse.com