METALLICA'S DELUXE EDITION OF "HARDWIRED…TO SELF DESTRUCT" WILL INCLUDE COVER SONGS AND LIVE MUSIC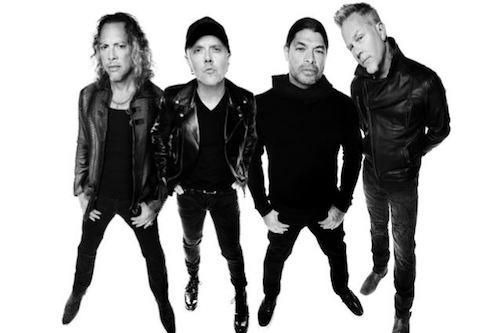 Metallica have posted the following message about their forthcoming album, Hardwired…To Self-Destruct, on their official website:
"Guess what?!? It's DONE! We have put the finishing touches on our next album, Hardwired…To Self-Destruct, and are looking forward to the next phase of unleashing it to the world, waking the monster that is Metallica and hitting the road. As we were in the 11th hour of wrapping it up it dawned on us that we have never shared with you in any sort of cohesive "official" manner the extensive covers we have worked on since Death Magnetic. While digging into the bonus options to compliment the 12-song album with additional material, we realized that none of our versions of these songs from some of our favorite and most respected artists have been readily available on our very own Blackened Recordings. So with that said, we're here to tell you about some changes we've made to the deluxe versions of Hardwired… in place of the previously announced Riff Origins.
The 2016 version of Lords of Summer from the studio in its full glory as originally promised is still included, but now we've added the Ronnie Rising Medley, originally only available only on the Ronnie James Dio – This Is Your Life tribute album, along with the Iron Maiden cover of Remember Tomorrow rounded out by Deep Purple's When A Blind Man Cries. And by the way all of these tracks have been recently re-mastered for optimum 2016 sound quality. Just for fun (and because there was room!) the special set we did at Rasputin's in Berkeley, CA on Record Store Day 2016 to celebrate the reissues of Kill 'Em All and Ride The Lightning is here all re-mixed and mastered."
Hardwired…To Self-Destruct is scheduled to be released on November 18th. To read more about this release, and to watch a video for Hardwired, please click here.
Hardwired…To Self-Destruct Deluxe Edition (Digital Download & CD):
Disc One:
1. Hardwired
2. Atlas, Rise!
3. Now That We're Dead
4. Moth Into Flame
5. Dream No More
6. Halo On Fire
Disc Two:
1. Confusion
2. ManUNkind
3. Here Comes Revenge
4. Am I Savage?
5. Murder One
6. Spit Out the Bone
Disc Three (Bonus):
1. Lords of Summer (2016)
2. Ronnie Rising Medley
3. When a Blind Man Cries
4. Remember Tomorrow
5. Helpless (Live at Rasputin Music)
6. Hit the Lights (Live at Rasputin Music)
7. The Four Horsemen (Live at Rasputin Music)
8. Ride the Lightning (Live at Rasputin Music)
9. Fade to Black (Live at Rasputin Music)
10. Jump in the Fire (Live at Rasputin Music)
11. For Whom the Bell Tolls (Live at Rasputin Music)
12. Creeping Death (Live at Rasputin Music)
13. Metal Militia (Live at Rasputin Music)
14. Hardwired (Live in Minneapolis)
Deluxe Box Set (3LP + 1CD):
Disc One Side A:
1. Hardwired
2. Atlas, Rise!
3. Now That We're Dead
Disc One Side B:
1. Moth Into Flame
2. Am I Savage?
3. Halo On Fire
Disc Two Side C:
1. Confusion
2. Dream No More
3. ManUNkind
Disc Two Side D:
1. Here Comes Revenge
2. Murder One
3. Spit Out the Bone
Disc Three Side E (Bonus):
1. Lords of Summer (2016)
Disc Three Side F (Bonus)
Hardwired (Live in Minneapolis)
Bonus CD:
1. Ronnie Rising Medley
2. When a Blind Man Cries
3. Remember Tomorrow
4. Helpless (Live at Rasputin Music)
5. Hit the Lights (Live at Rasputin Music)
6. The Four Horsemen (Live at Rasputin Music)
7. Ride the Lightning (Live at Rasputin Music)
8. Fade to Black (Live at Rasputin Music)
9. Jump in the Fire (Live at Rasputin Music)
10. For Whom the Bell Tolls (Live at Rasputin Music)
11. Creeping Death (Live at Rasputin Music)
12. Metal Militia (Live at Rasputin Music)