BLACK SABBATH "THE ULTIMATE COLLECTION" TO BE RELEASED IN OCTOBER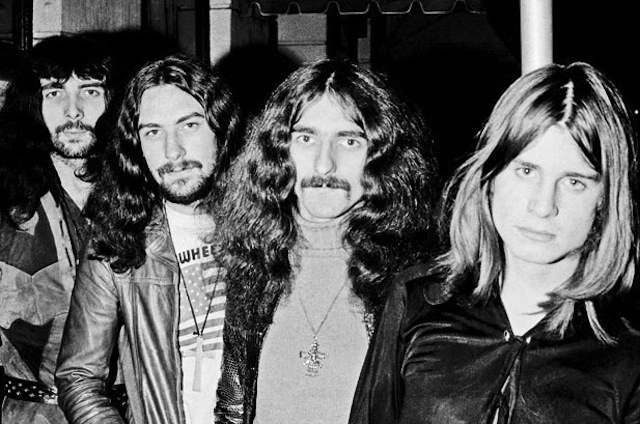 A new Black Sabbath collection will be available in a crucifix-shaped vinyl package in November.
BMG will release Black Sabbath The Ultimate Collection on CD and digital formats on October 28th, with the limited-edition "crucified" 4LP heavyweight vinyl version available from November 18th.
The Ultimate Collection is curated in conjunction with the band and features 31 songs remastered by engineer Andy Pearce.
Black Sabbath are currently on their farewell The End world tour. The road trip comes to a close with two dates in their home city of Birmingham, UK, in February 2017.
On the prospect of Black Sabbath's career coming to an end, frontman Ozzy Osbourne previously said, "We started off as four guys from Aston who had a dream, and it came true beyond our wildest dreams.
We were manipulated, ripped off, conned. We lost each other within each other. But. it's great to have got this back just to end on a high note."
Sabbath's use of an inverted crucifix on the artwork for their self-titled debut album was described as a "promotional ploy" by former drummer Bill Ward recently.
Ward said, "I think there were some wise guys who deliberately put that together as a ploy – as an advertising, promotional ploy, or who had seriously misgauged us as a band.
There was no collaboration, so I don't know who was responsible for it. I guess someone thought it would be a good idea and thought that was what we represented."
Black Sabbath The Ultimate Collection "crucifold" vinyl track list:
Side 1:
1. Paranoid
2. Never Say Die
3. Iron Man
4. Black Sabbath
Side 2:
1. Children Of The Grave
2. Fairies Wear Boots
3. Changes
4. Rat Salad
Side 3:
1. Sweet Leaf
2. War Pigs
3. Sabbath Bloody Sabbath
Side 4:
1. Hole In The Sky
2. Symptom Of The Universe
3. Spiral Architect
4. Rock 'N' Roll Doctor
Side 5:
1. Dirty Women
2. Evil Woman, Don't Play Your Games With Me
3. A Hard Road
Side 6:
1. Lord Of This World
2. Into The Void
3. Behind The Wall Of Sleep
4. Snowblind
Side 7:
1. Tomorrow's Dream
2. The Wizard
3. N.I.B.
4. Electric Funeral
Side 8:
1. Embryo
2. Killing Yourself To Live
3. Am I Going Insane
4. Wicked World
5. It's Alright
CD Disc One track listing:
1. Paranoid
2. Never Say Die
3. Iron Man
4. Black Sabbath
5. Children Of The Grave
6. Fairies Wear Boots
7. Changes
8. Rat Salad
9. Sweet Leaf
10. War Pigs
11. Sabbath Bloody Sabbath
12. Hole In The Sky
13. Symptom Of The Universe
14. Spiral Architect
15. Rock 'N' Roll Doctor
CD Disc Two track listing:
1. Dirty Women
2. Evil Woman, Don't Play Your Games With Me
3. A Hard Road
4. Lord Of This World
5. Into The Void
6. Behind The Wall Of Sleep
7. Snowblind
8. Tomorrow's Dream
9. The Wizard
10. N.I.B.
11. Electric Funeral
12. Embryo
13. Killing Yourself To Live
14. Am I Going Insane
15. Wicked World
16. It's Alright