METALLICA'S 3D MOVIE TO DEBUT ON IMAX SCREENS AT THE END OF SEPTEMBER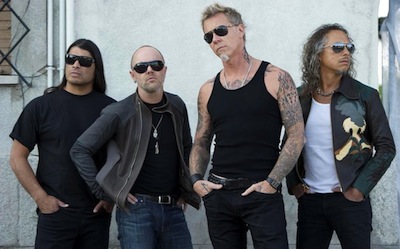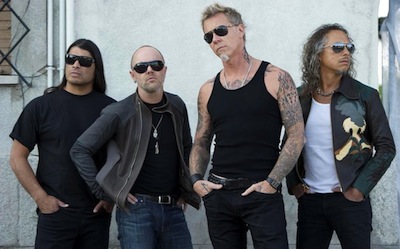 Metallica's new 3D film, Metallica Through The Never debut on IMAX's chain of super-sized screens on September 27th. It will open wide a week later.
"To be at the forefront in this situation where IMAX has never done this is very exciting," Metallica drummer Lars Ulrich said. "It's also a bit of a confidence booster. Being in the movie-making business is not necessarily our forte and it's been a very interesting three years. We've learned a lot about a lot of different things. The recognition from IMAX and to be able to have our fans and people that are interested in this film to see it and experience it in the IMAX format is super cool."
Ulrich, in his first interview about the movie, chuckled at the long road the film, directed by Nimrod Antal, has taken to near completion. It remains in post-production where concert and narrative footage are being knitted together with CGI effects to create something the band thinks will be completely different from the average concert film.
"Any filmmaker hopes people like a film," Ulrich said, "but what I can guarantee is that it will be unlike anything that anybody's ever seen before – so at least that's something. And for that I'm pretty excited."
Ulrich, speaking by phone from Cape Town, South Africa, where the pioneering metal band will play this week, didn't want to go too deeply into details about the film. It stars young "Chronicle" actor Dane DeHaan as a member of Metallica's concert tour crew who's sent on a special mission by the band. The movie follows two parallel story lines – DeHaan's scripted narrative and the band's concert – which intertwine throughout.
The band built a stage to film its concert pieces so fans will have the feeling of being inside the performance.
"There's no secret there are parts of Metallica's career that have been quite theatrical, of the different live experiences that we've had," Ulrich said. "And so we thought that we would give some of those theatrical presentations a kind of 2012 upgrade, especially for a bunch of our fans who were very, very young who have only heard about what happened in the `80s and `90s."
That the movie's release slipped into 2013 turns out to be a good thing in retrospect. Even if it's taken a few more checks than the band expected.
"Metallica (has a) tendency to jump and then start asking questions on the way down, then realize that as we get closer to the ground that there's no safety net and realize we should have asked more questions on the way down," Ulrich said. "But that's part of the rush. We jumped and this seemed like a pretty fun undertaking."
additional source: billboard