BLACK STAR RIDERS: THE DEFINITIVE RADIO INTERVIEW WITH EDDIE TRUNK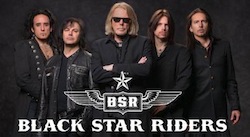 Last week,Black Star Riders vocalist Ricky Warwick and guitarist Damon Johnson dropped in on Eddie Trunk at SiriusXM Radio's HQ while in New York City on a promotional tour for their debut album All Hell Breaks Loose – due out in North America on May 28th. The result was the definitive live radio interview covering the historical context and each band member's history leading to the creation of the rock world's latest super group: Black Star Riders.
Listen to the audio interview in its entirety on the Nuclear Blast Soundcloud page here.
ABOUT Black Star Riders: In 2012, the touring members of Thin Lizzy began to seriously consider utilizing the vast songwriting talent within the band and spoke of it freely in the press. When Thin Lizzy drummer Brian Downey and keyboardist Darren Wharton bowed out of a new album and the subsequent tours to support it, the remaining members decided to band together under the Black Star Riders name allowing them to forge forward from – yet informed by – the historical legacy that the Thin Lizzy name is infused with.
The Black Star Riders line-up features Thin Lizzy members Ricky Warwick, Damon Johnson, Scott Gorham and Marco Mendoza together with drummer Jimmy DeGrasso (Alice Cooper / Megadeth). Produced & mixed by the legendary Kevin Shirley (Led Zeppelin, Iron Maiden, Aerosmith, Rush), their first studio album All Hell Breaks Loose features cover artwork by Gil Elvgren – the most renowned pin-up artist in the history of American Illustration.
The Bound For Glory single can be purchased on iTunes.
Hear the backstory and watch Ricky & Damon's acoustic performance of Bound For Glory for The Orchard's Stairwell Series below.
The track listing for All Hell Breaks Loose is:
1. All Hell Breaks Loose
2. Bound For Glory (view the lyric video here)
3. Kingdom Of The Lost
4. Bloodshot
5. Kissin' The Ground
6. Hey Judas
7. Hoodoo Voodoo
8. Valley Of The Stones
9. Someday Salvation
10. Before The War
11. Blues Ain't So Bad
The album will be released as a standard CD and also as a special edition digi-pak featuring a bonus track Right To Be Wrong and a Making of DVD.
A 24 minute compilation of behind-the-scenes video reports from the band's studio time in Los Angeles can be viewed below.
For more information, please visit BlackStarRiders.com and www.facebook.com/BlackStarRidersOfficial.