MET MUSEUM PICTURES PART TWO: JIMMY PAGE, JIMI HENDRIX, STEVIE RAY VAUGHAN, KEITH RICHARDS, THE BEATLES AND PAUL MCCARTNEY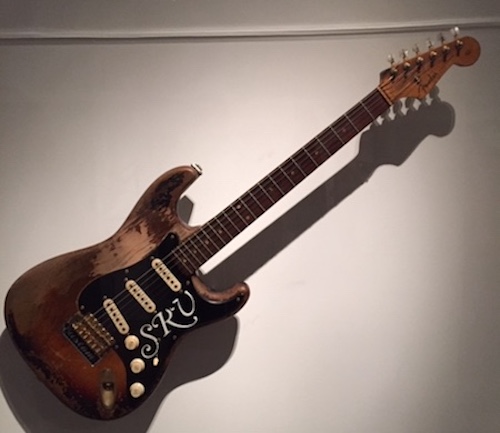 I have added some more pictures from my visit to the Met. On some of these instruments I have documentation, as per the museum, others I do not. But, I felt these needed to be seen (especially Stevie's strat). Enjoy.
View part one of my post, here.
Jimmy Page: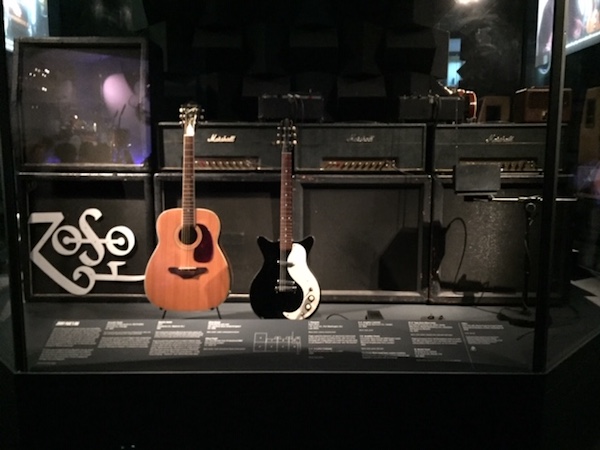 Above appears Jimmy Page's full Led Zeppelin-era rig, which he has used in different combinations since 1969 for live performances, and studio recordings. The arrangement is a reconstruction of how it happened onstage with Led Zeppelin.
The acoustic guitar is one of Page's main songwriting instruments. He used it to compose material on the first four Led Zeppelin albums, to record the majority of Led Zeppelin III (1970), and to record the acoustic parts of Stairway To Heaven. It remains in use today.
Page bought the electric guitar from London's Selmer Shop in 1963 for his session recording work and first played it live in 1967 with the Yardbirds on his instrumental piece White Summer. He used it in "Celtic Tuning," the alternate tuning with strings tuned to DADGAD with Led Zeppelin on When The Levee Breaks, In My Time of Dying, Kashmir and Black Mountain Slide. Page's Super Bass head, custom modified by Tony Franks, was Page's primary amp for Led Zeppelin's concerts and recordings.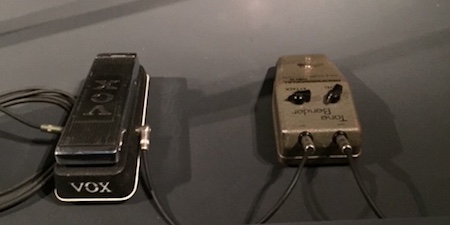 Page used this theremin, an electronic instrument known for it's eerie-sounding tones, with one of his Echoplex EP-3 tape delays to create the soundscapes in Led Zeppelin's Whole Lotta Love and No Quarter.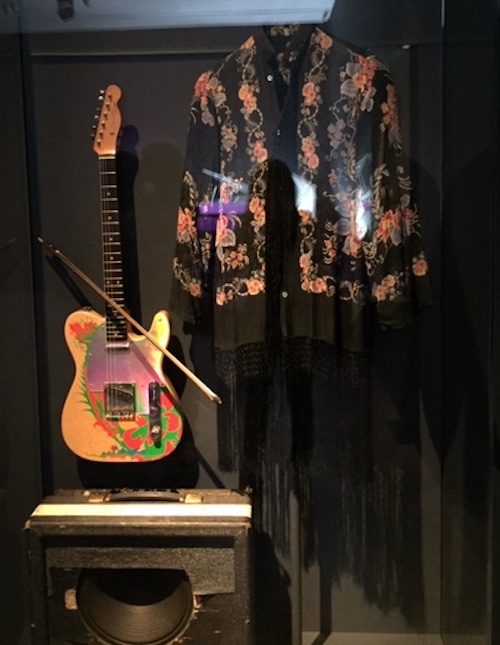 Jimmy Page received this guitar by Jeff Beck and used it for his 1967 work with the Yardbirds, playing with a violin bow on experimental versions of Led Zeppelin's Dazed and Confused. After the Yardbirds disbanded, he used it to record all of Led Zeppelin (1969). Page hand painted the dragon design on the body and replaced the white pickguard with transparent acrylic over silver-gray diffraction film. The guitar was later stripped by a well-meaning friend, but Page restored the design in 2018.
Jimi Hendrix: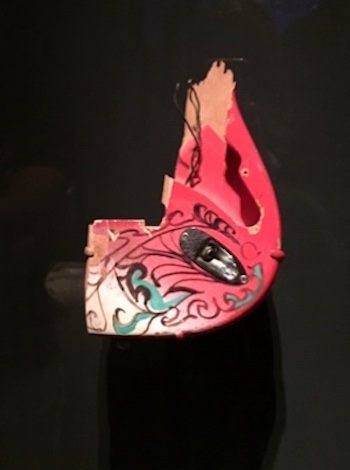 This guitar fragment comes from the Stratocaster that Jimi Hendrix destroyed in a ritualized sacrifice at the Monterey Pop Festival on June 18th, 1967. After playing the instrument, he dropped to his knees and squirted lighter fluid on it before setting it ablaze, picking it up, and smashing it. Following the Who to close out the festival, Hendrix was determined to outdo their high-octane set, which concluded with Pete Townshend and Keith Moon decimating their instruments
Stevie Ray Vaughan: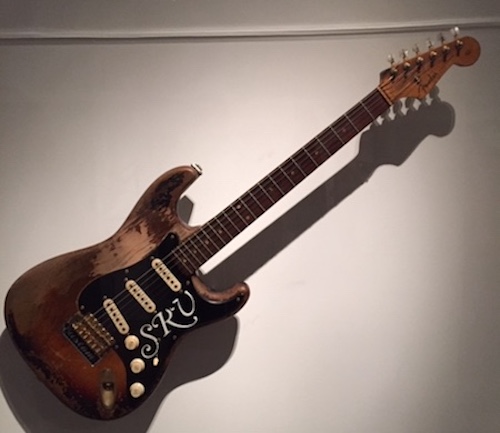 Stevie Ray Vaughan, one of the key drivers of the 1980s blues revival, use Number One as his main instrument throughout his career. Vaughan acquired the Stratocaster, built from a 1963 body with 1962 neck and a 1959 pickups, from Ray Henning's Heart of Texas music store in 1974 and modified it with black pickguard featuring his initials. Inspired by Jimi Hendrix and Otis Rush, Vaughan added a left vibrato. He played this guitar on his albums with Double Trouble and with his brother Jimmy Vaughan, and he likely used it on David Bowie's Let's Dance in 1982, made after the two met at the Montreal Jazz Festival.
Keith Richards: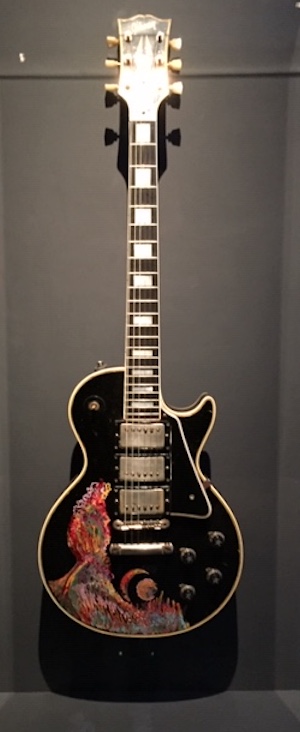 After the Rolling Stone's infamous drug arrest in February 1967, the band took a break from performing, and at some point Keith Richards decorated this guitar using paint pens, creating colorful abstract design on the body and silver stars on the controls. The instrument appeared in the Jean-Luc Godard film Sympathy for the Devil (1968), which explores the song's writing and recording process during Beggars Banquet sessions. It was also used in The Rolling Stones Rock and Roll Circus (1968, released on film 1996).
The Beatles: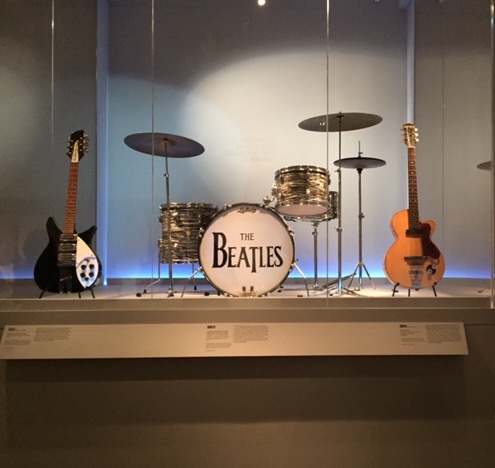 Paul McCartney: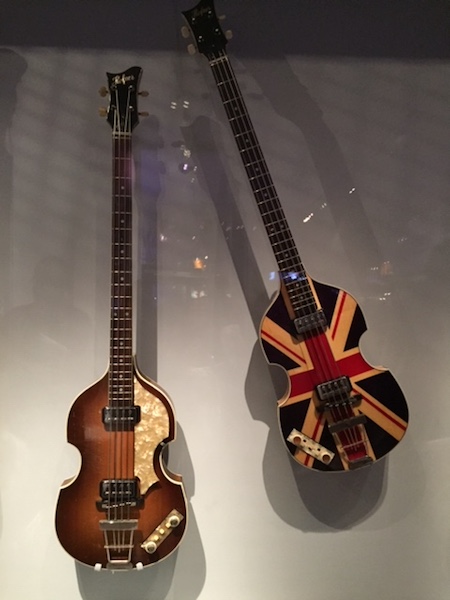 Related link: MY EXPERIENCE AT THE METROPOLITAN MUSEUM OF ART'S "PLAY IT LOUD: INSTRUMENTS OF ROCK N' ROLL" EXHIBIT