MY EXPERIENCE AT THE METROPOLITAN MUSEUM OF ART'S "PLAY IT LOUD: INSTRUMENTS OF ROCK N' ROLL" EXHIBIT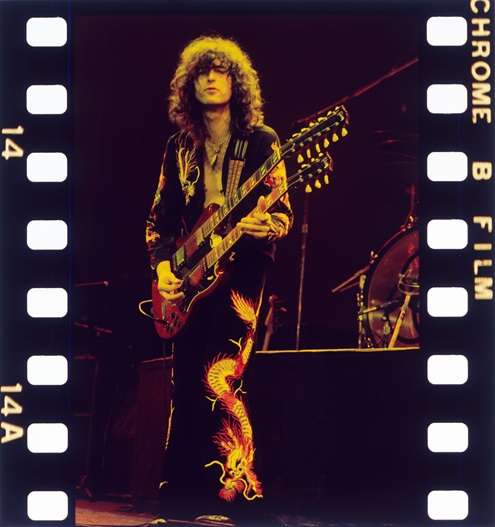 As many of you know, I have extolled the virtues of this museum many times before. It is easily one of my favorite places in the entire world, and I was very much looking forward to attending this show.
Other than the crowds, I have heard they haven't stopped since it opened, it does not disappoint. This exhibit can be enjoyed by instrument and gear heads, as well as, people who are simply fans of the musicians, who use these tools to create audio art, that affects our lives, and those of generations to come.
It is a truly a humbling experience to view these instruments in an intimate setting, knowing that they have been responsible, in part. for delivering some of the most famous, and recognizable music. Also, for some of us, looking at Eddie Van Halen's guitars/gear, may be as close as we may ever get, to the actual man, himself.
I have cataloged some of the highlights below, and organized them by musician, rather than date. I apologize if the pictures may appear blurry, contain refections (due to the glass cases) or random strangers. I did my best to try to take them after the crowds dispersed, but that wasn't for very long, therefore I was rushed.
Information about the instruments are courtesy of the Met. I encourage you all to attend, if you can. For more information about this show, please click here. This is just a small sampling of what this has to offer, all pictures courtesy of me 😉
View part two of this story , here.
Eddie Van Halen: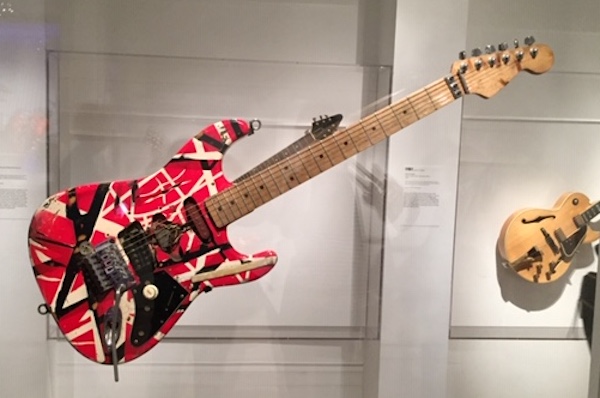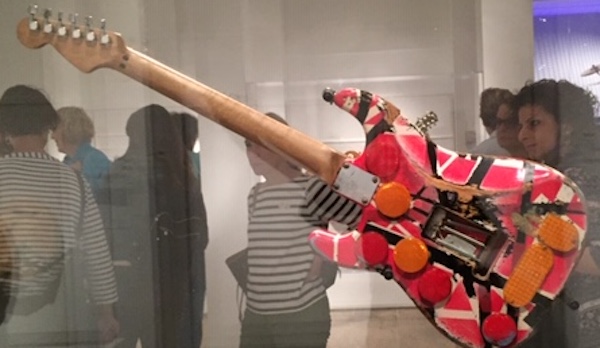 Aptly named Frankenstein, this guitar was pieced together by Eddie Van Halen from modified factory seconds and mismatched odd-lot parts, then spray painted. It represents an effort to combine some of the most desirable elements of Gibson and Fender guitars into a single instrument that was not commercially available at the time. Van Halen was continually striving to achieve the ultimate guitar tone…This unique guitar embodies not only his groundbreaking and unorthodox playing style, but also ingenuity in design and engineering…It is also one of the most recognizable guitars of all time…
This 2018 Super '78 Eruption guitar is an exact replica of the original configuration of Eddie Van Halen's Frankenstein guitar, which he constructed himself…His original decoration used white spray paint for the body with black intersecting stripes. After this was widely copied, Van Halen repainted the guitar red with white-and-black stripes, its now-iconic configuration.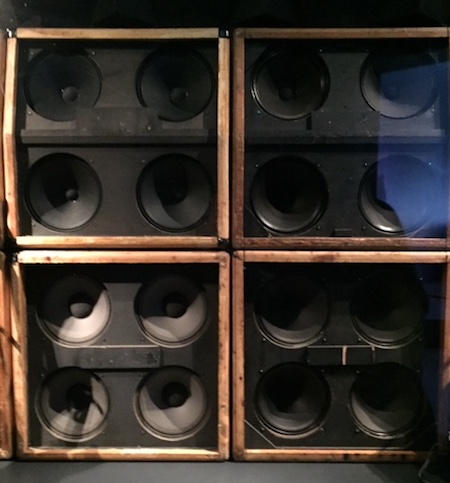 Paul Stanley:

Paul Stanley of KISS collaborated with Jeff Hasselberger at Ibanez to create this instrument. Stanley, always seeking ways to elevate his showmanship, envisioned a mirrored covered guitar that looked like it was smashed at the pickups and whose shards could reflect stage lighting like a disco ball…
Angus Young:

Angus Young, a cofounder of the Australian hard rock band AC/DC, has used Gibson SG's exclusively throughout his career with the band. He was initially attracted to the model because of its light weight and easy playability…Young has played this guitar since the 1980s in concerts including Live At Donington and Live At River Plate, and at the Grammy's in 2105. It's original vibrato tailpiece has been removed. Young never relied on effect to achieve his signature tones- just his guitar, amp and pre-amp.
Metallica: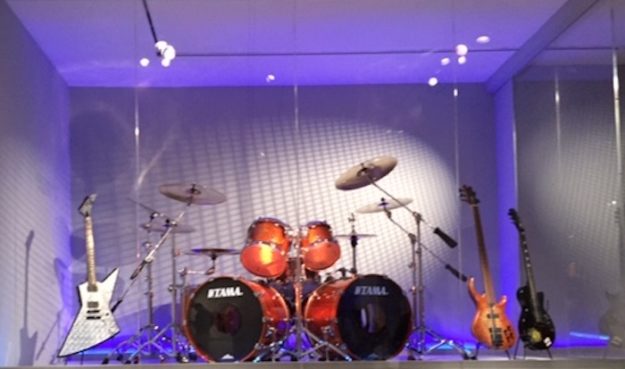 James Hetfield's second signature model, JH-2, is an Explorer-style guitar…This one-of-a-kind version features a chrome diamond plate top that Metallica provided to ESP Custom Shop. Hetfield began playing it on tour supporting albums Load (1996) and Reload (1997). Lars Ulrich uses a seven-piece kit built around the double bass drums…Ulrich's step omits the standard ride cymbal in favor of crash and "thrash" cymbals. This set was used on Metallica's 2008-10 World Magnetic tour. Robert Trujillo began using this five-string bass guitar, with an additional string below the standard four strings of most basses, on Metaliica's 2008 World Magnetic tour…The design is based on an Aztec calendar that was created by Trujillo's wife, artist Chloe Trujillo. Kirk Hammett's guitar's name comes from the decals of a spider and the number 13 on its body, which were designed by hardcore punk, metal, and skate artist Brian "Pushhead" Schroeder. He first used the instrument on tour in 1992 in support of the Black Album, and comtinues to use it on tours.
Steve Vai: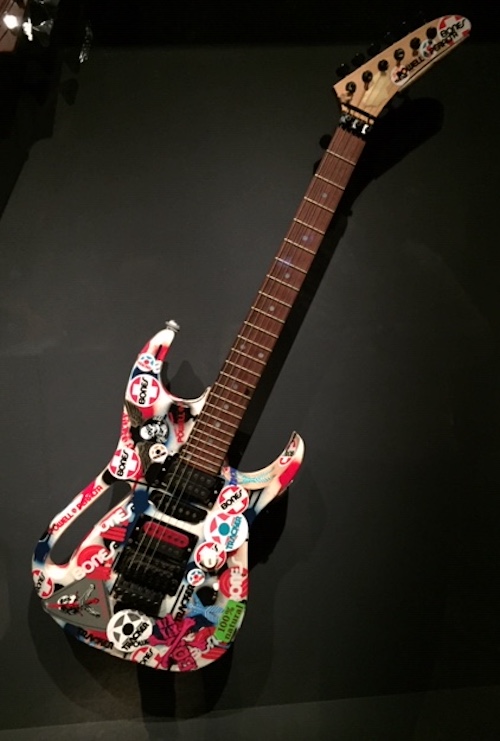 Steve Vai ordered this guitar and three others-"Little Annie Fanny," "Playboy and "Cowgirl"- from the Performance Guitar custom shop in the 1980's…Vai introduced a pronounced cutaway design that allows access to all twenty-four frets on the fingerboard and floating vibrato design that could bend the strings up to around six semitones sharp. Vai later worked with Japanese guitar maker Ibanez to refine elements of the design, including a signature "monkey grip" cutout in the body for the long-running JEM series.
Jimmy Page:

Jimmy Page acquired this Gibson Les Paul Custom in 1960 and used it as his main guitar for session work from 1962-1967, The guitar was stolen from the Minneapolis-Saint Paul airport in 1970, when Page took it on tour in the United States for the first time, and it returned to him on November 12th, 2015.
Jimi Hendrix: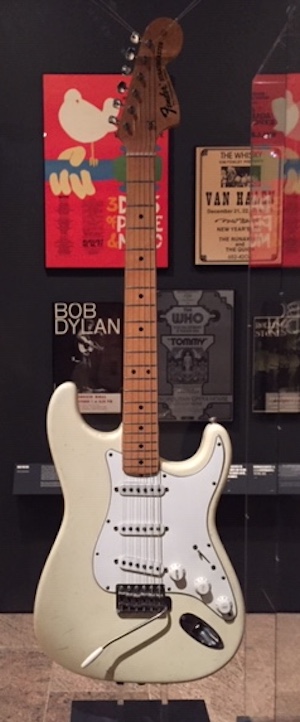 Jimi Hendrix's preference for Fender Stratocasters helped reestablished the instrument as its popularity waned in the late 1960s. He used this guitar for his legendary 1969 Woodstock performance, which culminated in his unplanned, radical reinterpretation of The Star Spangled Banner…Hendrix who was left-handed, famously played right-handed guitars upside down and restrung. He purchased this guitar in 1968; he also used it at the last 1969 Newport Pop Festival and his last official performance, at the Open Air Love and Peace Festival in Fehmarm, Germany on September 6th, 1970.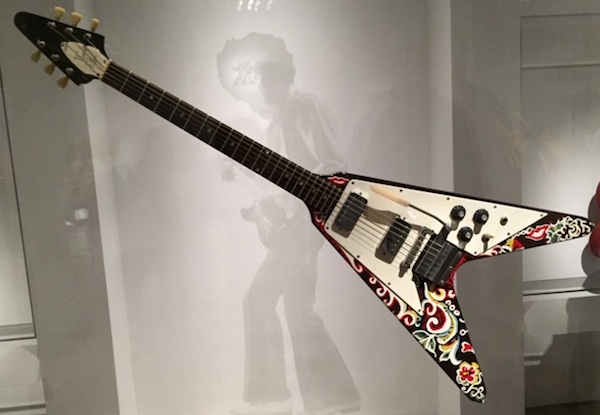 Though known for playing Fender Stratocasters, Jimi Hendrix played this Gibson Flying V extensively from 1967-1969. He probably used it on his 1967 BBC 1 sessions and 1968's Electric Ladyland, notably for his solo on All Along The Watchtower. Hendrix modified the nut and strap button and painted the instrument himself using nail polish. When he gave the guitar to Mick Cox of the Irish band Eire Apparent in1969, Cox refinished it in black and removed the original design. In the 1990s, session musician Dave Brewis acquired the instrument and restored Hendrix's original paint job.
Related link: MET MUSEUM PICTURES PART TWO: JIMMY PAGE, JIMI HENDRIX, STEVIE RAY VAUGHAN, KEITH RICHARDS, THE BEATLES AND PAUL MCCARTNEY