MARTY FRIEDMAN "ONE BAD M.F. LIVE!!" OUT NOW; U.S. HEADLINING TOUR STARTS JANUARY 23RD, 2019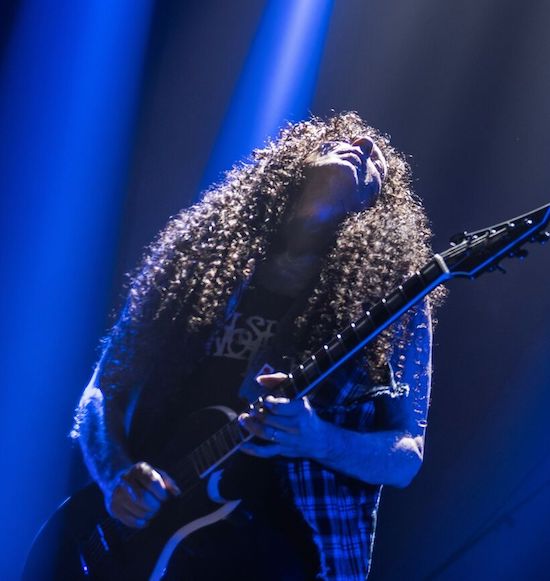 As Marty Friedman declares, "This tour will bring upon an avalanche of emotion and aggression, tears of joy, and an unhealthy dose of positive vibes from Tokyo."
Marty Friedman will show fans that he's One Bad M.F. Live!!, as he brings his new live album to life across the country starting January 23rd, 2019 in San Diego, CA at Brick By Brick.
"Marty Friedman Meet & Greet Experience" VIP packages will be available on October 26th on his official website, which include: one ticket to the show, meet and greet before the show, guitar pick pack, VIP lanyard, autographs and Vault CDs.
His band features the stunning female bassist Kiyoshi, wunderkind guitarist Jordan Ziff, and "The Animal" drummer Chargeeee.
"My band outshines me every night," says Friedman, "You will fall in love with Kiyoshi`s stage persona and her playing. I have never seen or heard a bassist like her. Jordan follows in a well-documented tradition of mine, of only playing with super guitarists. Chargeeee will have you laughing as he seems to be straight off The Muppets, while effortlessly bashing through some quite complex drumming."
One Bad M.F. Live was released October 19th on Prosthetic Records on all digital platforms, CD, as well as a vinyl 2LP gatefold set with glow-in-the-dark wax as one variant and black sparkle with clear splatter as the other. "The vinyl version is recommended," adds Friedman, "because this is a live album to be enjoyed in the old school manner-with a huge foldout cover, lots of big, cool live shots and info about the show."
Recorded live during his 2018 Wall of Sound tour on its final show in Mexico City at Centro Cultural on April 14th, 2018, One Bad M.F. Live!! is chock full of his own brand of "feelgood aggression" and an all-out celebration of his music in its rawest form. It's the follow-up to Wall Of Sound, which was released August 4th, 2017 on Prosthetic Records, and debuted on the Billboard charts at #12.
Not one to slow down and take any breaks, Friedman is also currently in the fourth year of filming a documentary, and his biography is set to be published soon.
Check out Marty at any of the following stops:
January 2019:
23 San Diego, CA Brick By Brick
24 Anaheim, CA The Parish at the House of Blues
26 Phoenix, AZ The Rebel Lounge
27 Tucson, AZ 191 Toole
30 San Antonio, TX The Rock Box
31 Houston, TX Scout Bar
February:
1 Austin, TX Come And Take It Live
2 Dallas, TX Trees
4 Oklahoma City, OK 89th Street – OKC
6 Sauget, IL Pop's Nightclub
7 Kansas City, MO The Riot Room
8 Iowa City, IA Gabe's
9 Minneapolis, MN Studio B at the Skyway Theatre
10 Madison, WI High Noon Saloon
12 Milwaukee, WI Shank Hall
13 Chicago, IL Reggie's Rock Club
14 Indianapolis, IN The Hi-Fi – Indianapolis
15 Chesterfield, MI Diesel Concert Lounge
16 Cleveland Heights, OH The Grog Shop
17 Pittsburgh, PA Crafthouse
19 Philadelphia, PA Voltage Lounge
20 Allston, MA Brighton Music Hall
22 Brooklyn, NY Saint Vitus
23 Garwood, NJ Crossroads NJ
24 Baltimore, MD Ottobar
Marty Friedman online:
Official Website
Facebook
Twitter
Instagram