MARK TREMONTI RETURNS AND TAYLOR MOMSEN DEBUTS ON THE LATEST EPISODE OF VH1 CLASSIC'S "THAT METAL SHOW"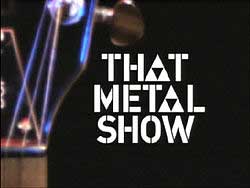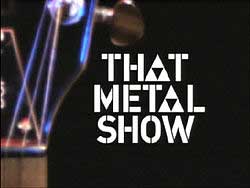 Officially reaching the halfway point of filming all new episodes of the latest season of That Metal Show, VH1 Classic's centerpiece in original programming returns this week with Mark Tremonti of Alter Bridge/Tremonti returning to the show and Taylor Momsen of The Pretty Reckless making her TMS debut. In lieu of a TMS Top 5 and the Take It Or Leave It segment, the hosts open the episode by bringing out Twisted Sister members Jay Jay French, Eddie Ojeda, and Mark Mendoza to pay tribute to their drummer, AJ Pero. Each member recounts a story about AJ and talks about the future of Twisted Sister in light of his recent passing.
The episode also features the return of Frank Hannon from Tesla as the guest musician who continues to showcase the talents that have made him a favorite on That Metal Show. Hannon plays a memorable version of Amazing Grace in tribute to the recently deceased AJ Pero.
The Put It On The Table segment offers insight into Mark and Taylor, Eddie regains his dominance during Stump The Trunk, and the Throwdown creates a Seattle civil war pitting Soundgarden against Pearl Jam. The hosts offer up their newest favorite reissues in the Pick Of The Week and Jim walks off with Eddie's pick. This week's That After Show talks about injuries while performing and the wear and tear of constantly performing live.
Fans can watch all previous episodes, exclusive bonus clips and the new That After Show segment at ThatMetalShow.VH1.com and on the new VH1 app.
Audience tickets for upcoming tapings are now available via Gotham Casting at gothamcasting.com/gothamrsvp/.