MANOWAR ANNOUNCE NEW U.S. TOUR DATES FOR NOVEMBER 2014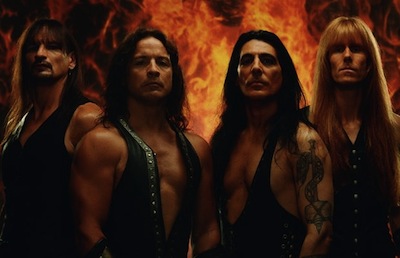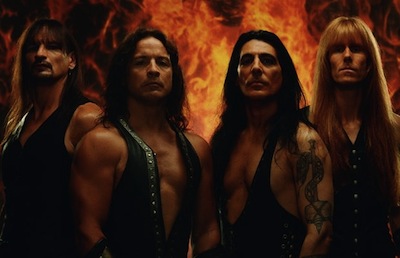 Manowar have announced more dates for their Kings Of Metal MMXXIV World Tour.
The Celebration of the 25th anniversary of Kings Of Metal album one of the most iconic metal albums of all times and one of the pillars of Manowar's lasting worldwide success, continues.
The Kings Of Metal MMXIV World Tour began in the U.S. this past February, making stops in the Midwest, Texas and the West Coast. But the Manowarriors demanded more and now the band is set to bring the power of true metal to further regions of the country such as the NYC Metropolitan area (Sayreville, NJ), Northeast Ohio (Cleveland, OH), Greater St. Louis (Sauget, IL), Detroit (Royal Oak, MI), Western NY (with a show in Buffalo, NY, ready to welcome our Canadian brothers and sisters from the Toronto area!), Atlanta, GA, "The Steel City" Pittsburgh, PA and a return to Chicago, IL, celebrating the city where the Kings Of Metal album was recorded.
The set list on this world tour includes the performance of the entire Kings Of Metal MMXIV album, and will be packed with more classics and fan favorites, new multimedia elements and more.
Manowar released the Kings Of Metal MMXIV Silver Edition earlier this year, a completely new recording of the 1988 album, now brimming with the power of today's technology, 25 years of performing these classics live, and new touches and surprises for each song. For more information about the Kings Of Metal MMXIV Silver Edition click here.
"We started this World Tour with our first U.S. tour in a long time, and it was sensational" said Joey DeMaio. "The fans were terrific; the
energy was electrifying! We can't wait to be back and play for more of our U.S. fans!"
Kings Of Metal MMXIV World Tour – confirmed dates:
July 5, 2014 – Rock Fest BCN – Barcelona, Spain
July 26, 2014 – Magic Circle Festival – Helsinki, Finland
October 18, 2014 – Loud Park Festival – Tokyo, Japan
November 12, 2014 – The Masquerade – Atlanta, GA, USA
November 14, 2014 – Pops – Sauget, IL, USA
November 15, 2014 – Concord Music Hall – Chicago, IL, USA
November 16, 2014 – Royal Oak Music Theatre – Royal Oak, MI, USA
November 18, 2014 – The Town Ballroom – Buffalo, NY, USA
November 19, 2014 – The Altar – Pittsburgh, PA, USA
November 21, 2014 – The Agora Theater – Cleveland, OH, USA
November 22, 2014 – Starland Ballroom – Sayreville, NJ, USA
January 14, 2015 – Grugahalle – Essen, Germany
January 16, 2015 – Zenith – Munich, Germany
January 17, 2015 – Jahrhunderthalle – Frankfurt, Germany