MANOWAR's 'KINGS OF METAL MMXIV' SILVER EDITION CD WILL BE RELEASED ON MARCH 21ST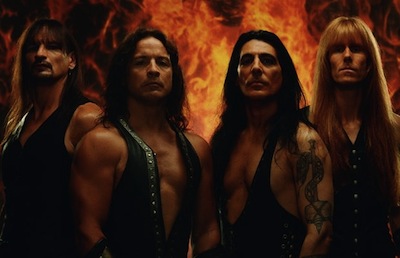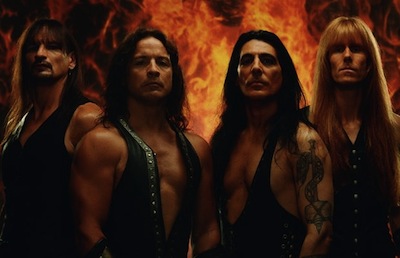 The Kings Of Metal MMXIV' Silver Edition CD, featuring 2 discs and two 24-page booklets will now be released in retail and in Manowar's own online stores: thekingdomofsteel.com and thekingdomofsteel.eu" on March 21st. Both online stores will also offer exclusive Power Packages, containing the CD and brand new merchandise, not available anywhere else and only for a short time.
The digital album is already available on iTunes and on Google Play worldwide.
"The Kings Of Metal MMXIV Silver Edition CD is a limited edition. It is important to us that every Manowar fan that has decided to own this collector's item at the time of its release has a chance to find it in the store of their choice. Due to strong pre-orders we have increased our initial order and we decided to change the release date, so that all stores get the music at the same time, and every fan has a fair chance to get one of these limited edition CDs," said a label representative.
Manowar's Kings Of Metal MMXIV is a completely new recording, celebrating the 25th anniversary of their iconic 1988 album Kings Of Metal and their following world tour.
While staying true to the 1988 version, Kings Of Metal MMXIV captures the listener with new arrangements and other new elements, and with stellar vocal performances by Eric Adams, powerful drums by Donnie Hamzik, a searing new guitar sound by virtuoso Karl Logan and a new record-breaking performance of the bass solo The Sting Of The Bumblebee MMXIV, played at 300 beats per minute by Joey DeMaio.
"This is an entirely new recording as far as the music goes," explained bassist and producer Joey DeMaio about the album. "Everything has been newly recorded. A tremendous amount of work and effort has gone into this new album, on all levels, and you will hear this when you listen to it."
Already a significant force with international success since their debut album Battle Hymns, the Kings of Metal release in 1988 and the following world tour in 1989 catapulted Manowar into a new sphere.
"We started talking about the 25th anniversary of the album's release, and how it could be done in a very special way. We love these songs as much as our fans do. So we started discussing the idea of a new recording which would allow for a fresh and massive sound, and added new elements," explained Joey DeMaio. "And then the idea of the anniversary tour was born, to celebrate this album in an appropriate way. Live, with our fans!" he added. "We have pushed man and machine to the maximum to honor the original recordings and we couldn't be happier with the results. Everything sounds bigger, for once due to the ability to cram more sound onto a record than we could in the past. Because technology has gotten better; as well as the equipment we are using, from the guitar strings and the guitar pick ups to pre-amps, to the microphones and the recording process. Technology has progressed so much! The result is massive!" commented DeMaio.
Kings Of Metal MMXIV Track List:
Disc 1:
Hail And Kill MMXIV
Kings Of Metal MMXIV
The Heart Of Steel MMXIV (Acoustic Intro Version)
A Warrior's Prayer MMXIV
The Blood Of The Kings MMXIV
Thy Kingdom Come MMXIV
The Sting Of The Bumblebee MMXIV
Thy Crown And Thy Ring MMXIV (Orchestral Version)
On Wheels Of Fire MMXIV
Disc 1 Bonus Tracks:
Thy Crown And Thy Ring MMXIV (Metal Version)
The Heart Of Steel MMXIV (Guitar Instrumental)
Disc 2:
Hail And Kill MMXIV (Instrumental)
Kings Of Metal MMXIV (Instrumental)
The Heart Of Steel MMXIV (Orchestral Intro Version – Instrumental)
The Blood Of The Kings MMXIV (Instrumental)
Thy Kingdom Come MMXIV (Instrumental)
Thy Crown And Thy Ring MMXIV (Orchestral Version – Instrumental)
On Wheels of Fire MMXIV (Instrumental)
Kings Of Metal MMXIV World Tour Confirmed Tour Dates:
Sat, February 22, 2014 – Fox Theatre – Pomona, CA, USA
Tue, March 18, 2014 – Olymp Palace of Sports – Krasnodar, Russia
Fri, March 21, 2014 – Luzhniki Palace of Sports – Moscow, Russia
Sun, March 23, 2014 – Yubileyny Sports Palace – St. Petersburg, Russia
Tue, March 25, 2014 – Rock Café – Tallinn, Estonia – SOLD OUT
Thu, March 27, 2014 – Rock Café – Tallinn, Estonia – SOLD OUT
Sat, March 29, 2014 – Teatro Arena – Vilnius, Lithuania
Sat, May 17, 2014 – Spodek – Katowice, Poland
Wed, May 21, 2014 – Hangar 11 – Tel Aviv, Israel
Sat, May 24, 2014 – Metal Summer Festival – Istanbul, Turkey
Fri-Sun, June 13-15, 2014 – Legacy Open Air – Weismain, Germany
Fri-Sat, July 25-26, 2014 – Magic Circle Festival – Helsinki, Finland
Wed, November 12, 2014 – The Masquerade – Atlanta, GA, USA
Sat, November 15, 2014 – Concord Music Hall – Chicago, IL, USA
Sun, November 16, 2014 – Royal Oak Theatre – Royal Oak, MI, USA
Wed, January 14, 2015 – Grugahalle – Essen, Germany
Fri, January 16, 2015 – Zenith – Munich, Germany
Sat, January 17, 2015 – Jahrhunderthalle – Frankfurt, Germany