LYRIC VIDEO FOR RONNIE MONTROSE'S "COLOR BLIND," FEATURING SAMMY HAGAR AND STEVE LUKATHER, POSTED ONLINE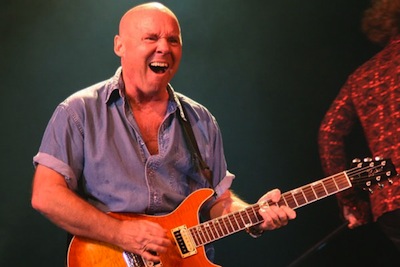 An official lyric video for the song, Color Blind from Ronnie Montrose's, 10X10, has been released. The song, featuring Sammy Hagar & Steve Lukather, can be viewed below.
Before his untimely death in 2012, renowned American rock guitarist Ronnie Montrose began recording an ambitious passion project with bassist Ricky Phillips (Styx, Bad English) and drummer Eric Singer (KISS, Alice Cooper). The idea was to record 10 songs with 10 different singers and call the album 10X10. Sadly, Montrose was unable to see the album through during his lifetime. Instead, Phillips made it his mission to finish the songs by enlisting a small army of Ronnie's musician friends to record the vocals and the guitar solos for each song, completing the album in recent years.
The album was released on 29th through Rhino. Read more about the release, here.
In addition to 10X10Montrose (1973) and Paper Money (1974).
Ronnie Montrose 10X10 Track Listing:
1. Heavy Traffic Feat. Eric Martin & Dave Meniketti
2. Love Is An Art Feat. Edgar Winter & Rick Derringer
3. Color Blind Feat. Sammy Hagar & Steve Lukather
4. Still Singin' With The Band Feat. Glenn Hughes, Phil Collen & Jimmy "Z" Zavala
5. Strong Enough Feat. Tommy Shaw
6. Any Minute Feat. Mark Farner & Ricky Phillips
7. The Kingdom's Come Undone Feat. Ricky Phillips & Joe Bonamassa
8. One Good Reason Feat. Bruce Turgon & Brad Whitford
9. Head On Straight Feat. Davey Pattison & Marc Bonilla
10. I'm Not Lying Feat. Gregg Rolie, Tom Gimbel & Lawrence Gowan