LISTEN TO DOKKEN BANDMATES GEORGE LYNCH & JEFF PILSON COVER DURAN DURAN'S "ORDINARY WORLD"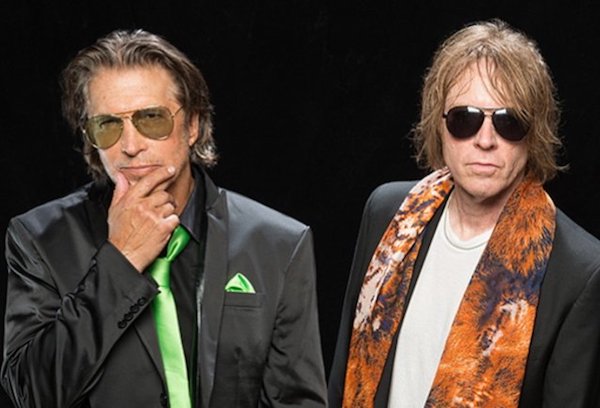 As previously reported, Guitar-shredding virtuoso George Lynch has reteamed with former Dokken bandmate Jeff Pilson for a set of new studio recordings that turn pop music classics into powerful metal anthems. The two have previously made metal magic together as a duo on the 2003 album Wicked Underground, which was recently reissued on vinyl, as well as with other projects such as T&N and The End Machine. But this new batch of recordings, titled appropriately enough Heavy Hitters, stands apart not only for its outstanding roster of players and vocalists, including Bulletboy' Marq Torien, Fishbone's Angelo Moore, New Zealand native Wil Martin and drummer Brian Tichy (Whitesnake, SUN) but for the jaw-dropping song selection. If you've ever wondered what an amped-up, full-throttle version of Carole King's I Feel The Earth Move or Prince's Kiss or Oasis's Champagne Supernova or Madonna's Music, then this is the album for you.
As a special treat, the band has released the first single from the album — a powerful rendition of Duran Duran's Ordinary World — featuring Martin on vocals, offering just a small taste of what's in store.
As Lynch himself explains, "I was never a huge Duran Duran fan, but I always loved this song. It was just so majestic and emotional. It was an honor and a challenge to cover it in that we had to thread the needle between respecting the original vision of the arrangement but putting our stamp on it as well."
Pilson, meanwhile, says, "The purpose of this whole record, besides having a lot of fun making it, was to take amazing hit songs and interpret them in a way that was true to the greatness of the original but that also brought something new and fresh to the song. Ordinary World is such a great melodic and emotional song, a song I think George and I have always loved. We just wanted to add some heaviness, a little George Lynch soulful playing and then let Wil fly with that phenomenal voice."
Heavy Hitters will be available on both CD in a deluxe digipak and on limited-edition colored vinyl starting December 18th, courtesy of Deadline Music, a subsidiary of Cleopatra Records, Inc.
Heavy Hitters track listing
1. One Of Us (originally by Joan Osbourne) 
2. You Got The Love (originally by Rufus & Chaka Khan) 
3. I Feel The Earth  (originally by Carole King) 
4. Ordinary World (originally by Duran Duran) 
5. Music (originally by Madonna) 
6. Apologize (originally by ONEREPUBLIC & Timbaland) 
7. Nowhere To Run (originally by Martha Reeves & The Vandellas) 
8. Kiss (originally by Prince) 
9. It's The End Of The World As We Know It (And I Feel Fine) (originally by R.E.M.)
10. Champagne Supernova (originally by Oasis)
Bonus track:
11. Lucille (originally by Little Richard)