LAST IN LINE PREMIERES VIDEO FOR "DEVIL IN ME"
On Friday February 19th, Frontiers Music SRL will release one of the most highly anticipated Hard Rock releases of 2016: the debut album from Last In Line, Heavy Crown.
Formed by three original members of Dio including Def Leppard's Vivian Campbell (guitar) Vinny Appice (drums) and Jimmy Bain (bass) and named after Dio's 1984 studio album The Last In Line, the new band are on a mission to bring classic Hard Rock to fans who can't get enough of the real thing. The album will be released on CD, CD/DVD (including a bonus track) and Digital formats. Pre-orders can be made here
First single, Devil In Me was premiered on Planet Rock (UK) and SiriusXM (U.S.) on Eddie's show on November 16th and today, November 17th, the official music video for the track is now available for viewing below.
Says guitarist Vivian Campbell, "When we started this project a few years ago, the initial idea was to reunite the original Dio band to play the songs we wrote and recorded with Ronnie in the early 1980's. Joined by Andrew Freeman on vocals, we played a handful of shows in southern California, the UK, and Japan. It was a limited ambition, but it brought us great joy in reconnecting to this great music, to each other, and to our collective history."
The new songs featured on the debut Last In Line album are all co-written by the four band members.
"When we first got together as the Last In Line line-up, our ambition at that time didn't extend to writing and recording any new music, says Campbell, "but when we were offered the opportunity to do so by Frontiers, we decided to enter the studio to write this new album in the very same spirit as we did the Holy Diver album; Back in 1982 Ronnie, Vinny, Jimmy and I went into Sound City studios to kick around ideas and riffs, and about six weeks later we started laying down the tracks for what was to become the Holy Diver album."
The new material was written after the band toured the classic Dio songs. During the tour, when the band started really connecting with each other musically, that's when they decided the time was right to start writing new material for what was to become the Last In Line debut album.
Vivian Campbell will also be putting time aside to go on tour with Last In Line when not touring with Def Leppard. Expect 2016 tour dates and festival appearances to be announced in the coming weeks.
Last In Line keyboardist Claude Schnell recently left the band.
Heavy Crown track listing:
1. Devil In Me
2. Martyr
3. Starmaker
4. Burn This House Down
5. I Am Revolution
6. Blame It On Me
7. In Flames (Bonus Track Deluxe Edition)
8. Already Dead
9. Curse The Day
10. Orange Glow
11. Heavy Crown
12. The Sickness
DVD track listing:
1. Devil In Me (Videoclip)
2. Starmaker (Videoclip)
3. Making of Heavy Crown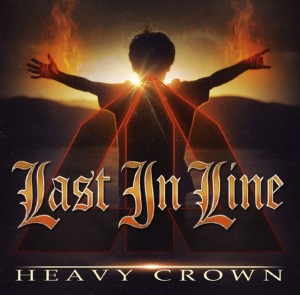 source: classicrock.teamrock.com