KXM'S VIDEO FOR "BREAKOUT" POSTED ONLINE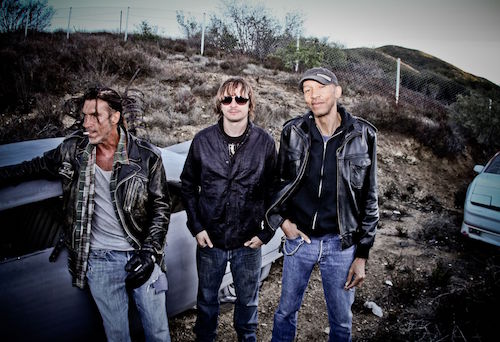 KXM, the band featuring dUg Pinnick of King's X on vocals/bass, George Lynch of Lynch Mob/Dokken on guitars and Ray Luzier of Korn on drums, has released a new video for the song, Breakout, from their forthcoming album, Scatterbrain, which be released on March 17th. Watch it below.
To watch a clip of the title track, please click here.
Recorded over the span of ten days, every song on Scatterbrain was the result of a musical jam from all three members playing together in the same room.
Ray Luzier explains on the process, "We wanted to use the same formula as the 1st KXM record: book studio time, come in fresh every day with a new idea & run with it and not over think anything." George Lynch described the sessions as Record-topia, "We showed up in the studio, camped out with a bunch of gear and let the tape roll. Just like the first album, no pre-production, no rehearsal, no pre-written songs." dUg Pinnick adds, "The vibe was like a bunch of old friends having fun creating music like the previous record, nothing but fun!"
The track listing for Scatterbrain is:
1. Scatterbrain
2. Breakout
3. Big Sky Country
4. Calypso
5. Not a Single Word
6. Obsession
7. Noises In The Sky
8. Panic Attack
9. It's Never Enough
10. True Deceivers
11. Stand
12. Together
13. Angel