*UPDATED* KXM POST VIDEO FOR "THE SKY" AND A BEHIND THE SCENES OF THE MAKING OF "SCATTERBRAIN" AND "BREAKOUT"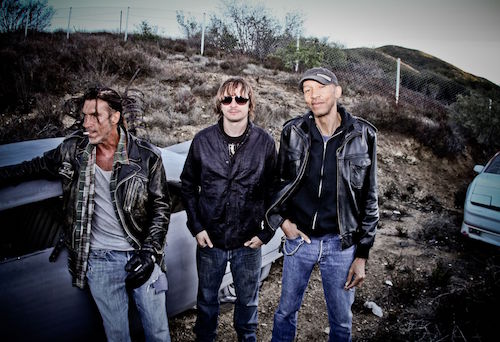 KXM, the band featuring dUg Pinnick of King's X on vocals/bass, George Lynch of Lynch Mob/Dokken on guitars and Ray Luzier of Korn on drums, has released a new video for the song, The Sky, from their forthcoming album, Scatterbrain, which be released on March 17th. Watch it below.
To view other titles from this release, click on the highlighted song titles:
The band also posted a behind scenes look at the making of the record, which can be viewed below.
Recorded over the span of ten days, every song on Scatterbrain was the result of a musical jam from all three members playing together in the same room.
Ray Luzier explains on the process, "We wanted to use the same formula as the 1st KXM record, book studio time, come in fresh every day with a new idea & run with it and not over think anything." George Lynch described the sessions as Record-topia, "We showed up in the studio, camped out with a bunch of gear and let the tape roll. Just like the first album, no pre-production, no rehearsal, no pre-written songs." dUg Pinnick adds, "The vibe was like a bunch of old friends having fun creating music like the previous record, nothing but fun!"
The track listing for Scatterbrain is:
1. Scatterbrain
2. Breakout
3. Big Sky Country
4. Calypso
5. Not a Single Word
6. Obsession
7. Noises In The Sky
8. Panic Attack
9. It's Never Enough
10. True Deceivers
11. Stand
12. Together
13. Angel