KIX ANNOUNCES THEY WILL BE DISBANDING, AFTER PLAYING THEIR LAST LIVE SHOW IN HOME STATE OF MARYLAND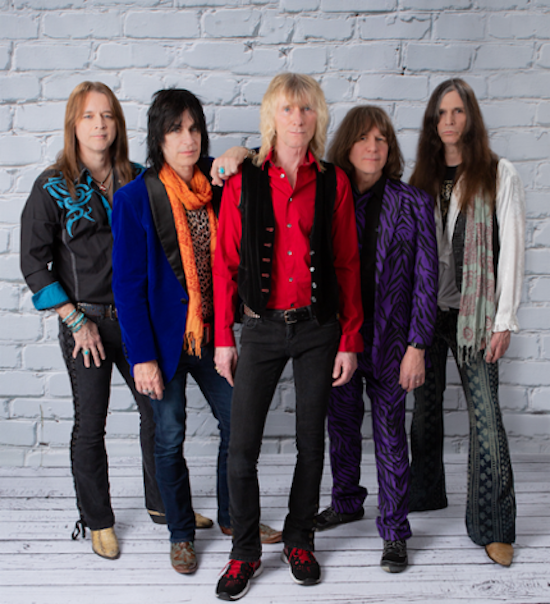 Veteran rockers Kix will play their final show in September.
The Baltimore-based act, which formed in 1977, announced its plan to call it quits during an appearance at the M3 Rock Festival at the Merriweather Post Pavilion in Columbia, Maryland.
In a video shared by Mark Strigl of Talking Metal, Kix vocalist Steve Whiteman can be seen telling the M3 Rock Festival crowd (as transcribed by blabbermouth.net), "I wanna make an announcement here. And it's gonna be probably a little hard to get through, but I wanna do it anyway, 'cause we want you all to know. We've decided that after 45 years of doing this, I think we're gonna call it a career. Not tonight. We're gonna do a show here September 17th."
"It's been a long, long, long road," he continued. "And my health is failing. Jimmy's [Chalfant, Kix drummer] health is definitely failing. And we just decided we're gonna finish up these dates through the summer. And we were gonna end in Hinckley, Minnesota. And we thought, 'Who the f–k wants to end a career in Hickley, Minnesota?' So we brainstormed, and we said, 'We wanna do one big final rock and roll show in the area,' because you guys deserve it. No offense, Hinckley, but f–k that. So, September 17th will be our final show, and we're lucky enough to be doing it here [at the Merriweather Post Pavilion], so we hope you all will come join us. Will you come join us for our final show? We're countin' on you."
"So, it's sad, but it's just time," Whiteman added. "You know when it's time. It's like an athlete. You know when it's time. And I think it's time. I'm tired. I can't f–king do this anymore. [Laughs]"
Chalfant rejoined his bandmates on stage for two songs — Cold Blood and Blow My Fuse — during the band's set on April 30th aboard this year's Monsters Of Rock cruise. It marked his first live appearance with the band since he collapsed onstage six months ago. He also performed with the band at the M3 Rock Festival.
Kix was founded in 1977 and released its first, self-titled album on Atlantic Records more than 40 years ago. Their breakthrough came with 1988's Blow My Fuse, which sold nearly a million copies, thanks to Don't Close Your Eyes. The band continued to ride the hard-rock wave until 1995, when Kim took a hiatus. Nearly 10 years later, they reunited and started touring regionally. A 2008 performance at the Rocklahoma festival led to more gigs and the release of a live DVD/CD called Live In Baltimore in 2012. In 2014, the band released its seventh full-length album, Rock Your Face Off, the band's first studio effort since 1995's Show Business. The album debuted at No. 1 on Amazon's Hard Rock and Metal chart, in the Top 50 on the Billboard 200 chart, No. 5 on the Independent Albums chart, No. 11 on the Top Internet chart, No. 17 on the Top Rock Albums chart, No. 27 on the Indie/Small Chain Core Stores chart and No. 33 on the Physical chart.
Kix released Can't Stop The Show: The Return Of Kix in October 2016, a two-disc DVD/CD set that entered the Billboard Top Music Video Sales chart at No. 3 and rose to the No. 1 position, the band's highest-charting debut and first No. 1 ever in their 35-year history. The 71-minute film offered an in-depth look into Kix's decision to record their first new album, in almost 20 years.
In 2018, Kim celebrated the 30th anniversary of their biggest album, Blow My Fuse, with Blow My Fuse Re-Blown, a two-disc set with a remixed/remastered version of the album, along with the original demo recordings for all 10 songs. The reunion with longtime collaborator Beau Hill for this remix sparked the initiative to revisit Midnite Dynamite and take a similar approach to updating KIX's legacy.
On the 35th anniversary of the release of Midnite Dynamite, Kix released Midnite Dynamite Re-Lit in November 2020. For Midnite Dynamite Re-Lit, the band partnered with Hill for a blistering update of the fan-favorite album.