KISS FRONTMAN PAUL STANLEY SAYS THE BAND DID NOT PERFORM AT THEIR "ROCK N' ROLL HALL OF FAME" INDUCTION, BECAUSE CURRENT MEMBERS, ERIC SINGER AND TOMMY THAYER, WERE NOT INCLUDED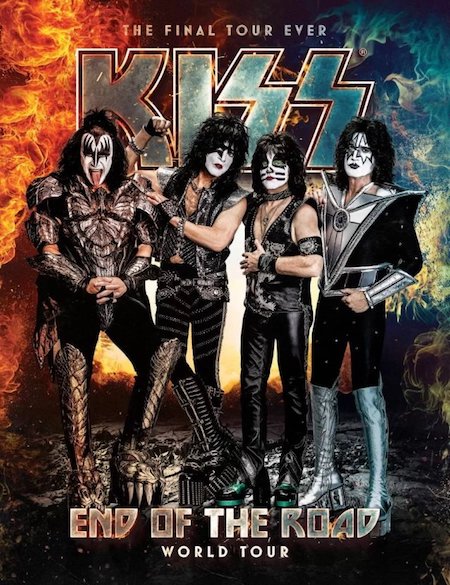 During an appearance on March 1sts episode of SiriusXM's The Howard Stern Show, KISS frontman Paul Stanley once again expressed his frustration over the Rock And Roll Hall Of Fame not inducting current members Eric Singer (drums) and Tommy Thayer (guitar) along with the original lineup when the band was welcomed into the institution back in 2014.
He said (via blabbermouth.net), "The hypocrisy is that we're not a band they like. They purposely kept us out for 15 years. And other bands that they embrace, they induct people's moms and songwriters and all these people. And with us, it truly was unfair."
When asked by Stern why KISS didn't perform at the Rock Hall induction, Stanley said, "Because we had too much pride in this lineup, which is KISS, and has been KISS for 20 years. It's not newcomers. This is the band. We'll be back in the stadiums of South America next month. We were there five months ago. We were in Japan. This is the band that has carried the flag and taken it, really, to another level. This is the band I always dreamed it would be, and for us to go onstage… They were demanding, quite honestly, that we play with the two original guys, Peter [Criss] and Ace [Frehley], and at this point, that would be demeaning to the band, and also would give some people confusion. 'Cause if you saw people on stage who looked like KISS but sounded like that, maybe we should be called PISS."
KISS bassist/vocalist Gene Simmons concurred, saying, "We've been all over the world, through decades, with this present lineup. It bears noting I've never seen a single banner or sign that mentions any other lineup. When Tommy takes a solo, 'Tommy! Tommy!' That's me backstage going, 'Tommy!' When Eric takes a solo, 'Eric! Eric!' They're pumping their fists. It's legitimate. Nobody is in KISS and doing it by the numbers."
KISS announce their final shows of their reported last tour on Stern's show, which will be two back-to-back shows at Madison Square Garden in New York at the end of 2023.
The last portion of KISS's 19-date North American tour will begin in October in Texas and culminate in the MSG concerts on December 1st and December 2nd.
Tickets will be available starting March 6th, with a KISS Army presale at 10 a.m. local time. Additional presales will be available throughout the week before the general on sale starting March 10th at 10 a.m. local time at livenation.com.