QUIET RIOT "40 YEARS OF METAL HEALTH" INITIAL TOUR DATES ANNOUNCED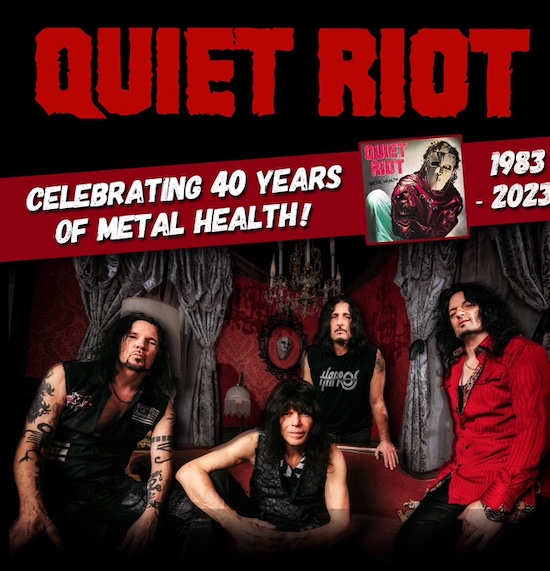 Legendary hard rock band Quiet Riot is set to kick off their 40 Years Of Metal Health tour on March 4th in Canyonville, OR at the Seven Feathers Casino and has announced the first batch of dates for what will be an extensive tour of North America to celebrate the anniversary of the landmark album Metal Health.
Metal Health was released on March 11th, 1983 and has the distinction of being the first "metal" album to reach number one on the Billboard charts and to date has sold over 10 Million copies worldwide.
States Metal Health founding member Rudy Sarzo, "We are honored to celebrate the 40th anniversary of Quiet Riot's landmark record Metal Health on tour with all the Head Bangers around the world."
In addition to Sarzo, the band's current line-up includes longtime guitarist Alex Grossi , vocalist Jizzy Pearl and drummer Johnny Kelly.
Initial Quiet Riot 2023 Tour Dates:
3/4 – Canyonville, OR- Seven Feathers Casino
3/9 – Horseheads, NY- The "L"
3/10 – Uucasville, CT – Mohegan Sun Casino
3/25 – Hollywood, CA – Whisky A Go Go
4/8 – Winchester, VA – Backseat Concert Series w/ Black & Blue
4/22 – Ontario, Canada- Casino Rama w/ Warrant
4/29 – Austin, TX- The Haute Spot
5/5 – Englewood , NJ – Bergen Performing Arts Center w/ Vixen
5/6 – Columbia, MD– M3 Rock Festival w/ Styx, Slaughter, Warrant & more
5/13 – Watertown, SD- Studio 212
5/27 – Winnemucca, NV- Run-A-Mucca Festival
6/9 – Wyndotte, MI- Smugglers Run
6/10 – Las Vegas. NV- Cannery Casino w/ Stryper
7/14 – Cumberland, MD- Rock The Mountains
7/25 – York, PA – York State Fair w/ Vince Neil & Stephen Pearcy
9/17 – Kennewick, WA- Clover Island
3/9/24 – Great Yarmouth, UK Hard Rock Hell AOR Festival w/ Autograph & Enuff Z' Nuff
More dates TBA.
In December, Quiet Riot reissued their 2006 album Rehab: Relapsed & Remastered, which included a previously unreleased track titled I Can't Hold On (please go here to see the video). The song (originally written and demoed by Kevin Dubrow & Alex Grossi in 2003) features a posthumous reunion of Dubrow, Frankie Banali and Rudy Sarzo and is accompanied by an emotional video tribute directed by Frankie's widow Regina Banali.