KID ROCK CONTINUES ON HIS QUEST TO LOWER CONCERT PRICES BY SCALPING TICKETS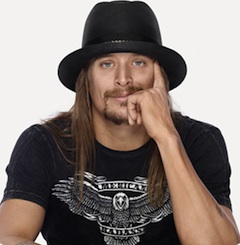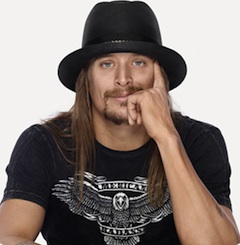 Kid Rock is a scalper.
The 42-year-old Grammy winner, who is launching a summer tour where most tickets are priced at $20, said he's scalping about 1,000 tickets from each show to make up for the cheaper regular price.
"I'm in the scalping business, but you know what? We told everyone. A lot of artists have been doing this for years behind fans' backs, taking all these backdoor deals," he said. "We look at StubHub and other places and see what they're selling them for and we just undercut them."
Kid Rock's $20 Best Night Ever Tour begins June 28th in Bristow, Va., and the Detroit native, who released his debut album in 1990, said he likely scalped secretly on past tours.
"I'm sure we have," he said. "I can't say for sure, but I'm not going to say that we haven't. I wouldn't be surprised if we did."
Kid Rock's discount ticket pricing is leading a change in tours where scalpers play a major role as the marketplace for secondary sources for tickets continues to grow, especially in a summer when key acts like The Rolling Stones, Beyonce, Paul McCartney, Taylor Swift, Justin Timberlake and Jay-Z are on the road.
Ticketmaster's North American President Jared Smith said Kid Rock's deal, which he completed with Ticketmaster partner Live Nation, is a first of more to come, though they might not be as risky as Kid Rock's plan, which also includes $4 draft beers and $20 T-shirts.
"I absolutely believe that we're starting to see the real acceleration of some really healthy things in pricing that are going to create new opportunities for fans to come and experience it in a really special way," Smith said.
A small way that artists have been able to control scalping is through paperless tickets, which only allows the buyers of the tickets to use them at shows and are not allowed to resell them. Smith said paperless tickets, which launched five years ago, accounts for "about 1 percent" of the tickets at Ticketmaster.
"It hasn't grown necessarily as a percentage of the total tickets that we sell, but we certainly see more artists employing it," Smith said. "When it really first started, it was kind of looked at as a tool to use across the entire seats in the arena, but it's really become a tool for the best seats in the house. Increasingly we see artists using it very, very targeted for like the top 500 seats in the house or the top 1,000 seats."
Bruce Springsteen, Keith Urban, New Kids on the Block, Radiohead, Rascal Flatts, Selena Gomez, Muse, Miley Cryus, Iron Maiden, Atoms for Peace and Eric Church are among the acts using paperless tickets.
StubHub, the largest reseller of tickets, said business is booming thanks to the top acts on the road as well as summer festivals. But the company, which has a partnership with AEG, knows the idea of paperless tickets hurts their business.
"That limits a person's right to resell or transfer or to just give away their ticket. We do not support that because we believe in a fan's right to do whatever they want with their tickets," said Alison Salcedo, the head of U.S. Communications for StubHub. Fan Freedom, an organization that supports the rights of ticket holders, echoed StubHub's thoughts on paperless tickets.
"I don't see any reason why nontransferable tickets need to be the solution," said Joe Potter, the CEO of Fan Freedom, which is financially supported by StubHub. "Scalpers get tickets through pre-sale and fan club memberships."
Ticketmaster isn't against the idea of reselling tickets, in fact they resell concert tickets online.
"More often or not tickets are underpriced, that's why you see so much resell activity," Smith said. "What we try to do is make sure it's done very transparently."
Ticket holders are allowed to sell tickets at any price on sites like StubHub and ticketsnow.com, that's why Kid Rock isn't selling tickets for the first two rows at his shows. He's randomly pulling fans from the nose bleed sections to enjoy his concert from the venue's best view. And the first 20 rows at his shows are seats offered through paperless ticketing.
"We really don't know what we're going to make yet. We were doing estimates on it and they're already going through a lot of these numbers, and it looks like it's going to be a good summer," he said of what his potential tour earnings.
Kid Rock, whose tour openers include ZZ Top, Uncle Kracker and Kool and the Gang, is playing the same venues he's performed at in the past, but he said he's filling up more seats and selling tickets faster. Even scalpers have approached the performer to cut deals.
"I've had people in the scalping business come at me already and try to make side deals like, 'I can make you thousands of dollars, hundreds of thousands of dollars in cash if you'll just flip a few of these tickets our way for certain shows,'" he recalled.
Read more at Billboard.
Related articles:
KID ROCK SELLING $20 CONCERT TICKETS, SAYS HE WOULD LIKE OTHER ARTISTS TO FOLLOW SUIT
Primary source: Associated Press