JUDAS PRIEST'S GLENN TIPTON SAYS THAT THEIR NEW MUSIC IS "WHAT EVERY FAN WOULD WANT TO HEAR"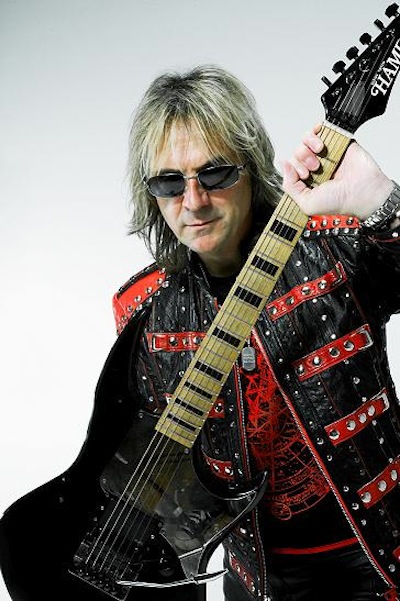 Matt Wardlaw of Ultimate Classic Rock spoke with Judas Priest guitarist Glenn Tipton, excerpts from the interview appear below.
UCR: When Judas Priest first became a two-guitar band, how did you and K.K. Downing divide the parts?
Glenn Tipton: It really took care of itself. We didn't sit down and say, "You take this one, I'll take that one." Everything seemed to fall in place. It seemed obvious which lead I should take and the leads that K.K. should do.
UCR: Kerry King of Slayer recently called your turn in Beyond the Realms of Death his favorite Tipton solo of all time.
Glenn Tipton: That's very good of him. I know he's always been a big fan of the band. It's great when a guy like that can open up and say what he enjoyed about tracks [like that]. It is a favorite solo of mine. It's nice to hear somebody like Kerry come out and say that. With all of the hard work you put in, it's nice to know that it's appreciated.
UCR: Iron Maiden also had the twin-guitar thing, but they had a specific approach. As a guitar player, what was interesting to you about them?
Glenn Tipton: I think it was a natural progression, that's the phrase I would use. They took what we had done and made it their own. It's important to be very easily recognizable when you're writing songs. You know that you're successful, I think, when you hear yourself on the radio and it's easily recognizable. I think that Maiden did that. They're very influenced by Priest, but they did it in their own way, and all credit to them for that.
UCR: What's going on with the new Judas Priest album?
Glenn Tipton: The epidemic really halted the writing process. But the band was kicking ideas around before that. I think it's what every Priest fan would want to hear. There's no attempt to be clever or try and do something too risky. It's just down and out Priest. And as I say, I think it will be what every Priest fan will want.
Read more at Ultimate Classic Rock.
Judas Priest are currently out on the road, playing tonight (4/21) in San Antonio, TX, see their remaining dates, here. They have also announced that they will be at the Aftershock Festival in October, for more information, please go here. Finally, once again, the band has been nominated for the Rock N' Roll Hall of Fame, fans can still vote every day for their induction, by going to rockhall.com.