JUDAS PRIEST'S "FIREPOWER" IS THE BAND'S HIGHEST CHARTING ALBUM EVER IN THE U.S.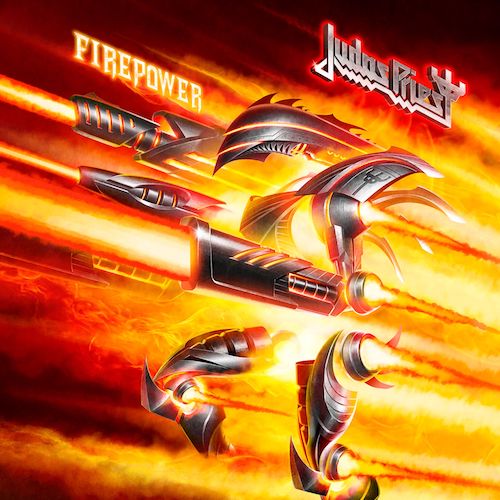 Keith Caulfield of Billboard reports:
Rock band Judas Priest debuts at No. 5 on the Billboard 200 albums chart with Firepower — marking the group's highest charting album ever. The album surpasses the group's previous chart high, logged when 2014's Redeemer of Souls debuted and peaked at No. 6…
…Firepower — the act's 18th studio effort — bows with 49,000 units earned in the week ending March 15th, according to Nielsen Music. Of that sum, 48,000 were in traditional album sales — the act's best sales frame since 2005's Angel of Retribution bowed with 54,000 copies sold. Judas Priest's bow was bolstered by sales generated from a concert ticket/album sale redemption offer in association with the band's tour that began on March 13th.
Firepower and Redeemer of Souls are the veteran band's only top 10 efforts, though the act has been charting since 1978 with Stained Class (No. 173). The group collected its first top 40 set in 1980 with British Steel (No. 34) and its first top 20 effort with 1982's Screaming for Vengeance (No. 17).
The new album was ushered in by the single Lightning Strike, which has so far peaked at No. 21 on the Mainstream Rock Songs airplay chart. It's the band's highest charting single on the tally since way back in 1982, when their classic hit You've Got Another Thing Comin' peaked at No. 4.
Here's a look at Judas Priest's history on the Billboard 200 chart:
Title, Peak Position, Peak Date
Stained Class, No. 173, April 22nd, 1978
Hell Bent for Leather, No. 128, April 28th, 1979
Unleashed in the East (Live in Japan), No. 70, Nov. 10th, 1979
British Steel, No. 34, July 12th, 1980
Point of Entry, No. 39, May 23rd, 1981
Screaming for Vengeance, No. 17th, Oct. 30, 1982
Defenders of the Faith, No. 18, Feb. 25th, 1984
Turbo, No. 17, April 26th, 1986
Live, No. 38, July 11th, 1987
Ram It Down, No. 31, June 18th, 1988
Painkiller, No. 26, Nov. 3rd, 1990
Metal Works '73 – '93, No. 155, June 5th, 1993
Jugulator, No. 82, Nov. 15th, 1997
Demolition, No. 165, Aug. 18th, 2001
Angel of Retribution, No. 13, March 19th, 2005
Nostradamus, No. 11, July 5th, 2008
A Touch of Evil: Live, No. 87, Aug. 1st, 2009
Redeemer of Souls, No. 6, July 26th, 2014
Firepower, No. 5, March 24th, 2017
source: billboard.com