JUDAS PRIEST TATTOO EXHIBITION ANNOUNCED FOR LONDON AND BRIGHTON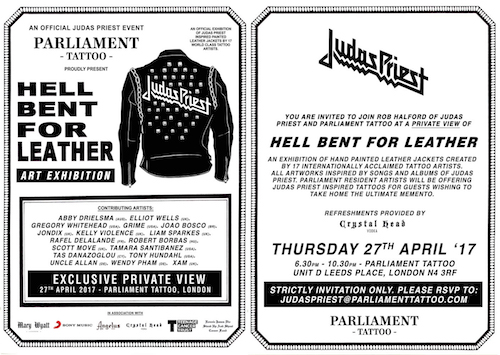 Judas Priest have collaborated with Parliament Tattoo Studio in London to bring together an exhibition of hand painted leather biker jackets, inspired by the band's albums and song titles.
The artwork is by some of the world's greatest Tattoo artists, and Rob Halford is taking time out from recording in the studio with the band to open the exclusive showcase on April 27th 2017. After the public exhibition, the jackets will be moving to Brighton, to be shown at the Brighton Tattoo Convention on May 13th and 14th.
Following the events, the jackets will be auctioned off online along with a signed certificate of authenticity from Judas Priest to benefit both The Teenage Cancer Trust and the Ronnie James Dio Stand Up And Shout Cancer Fund – both extremely worthy causes close to the hearts of Judas Priest – the exhibition hopes to raise as much money as possible for the two charities.
For more information, please visit parliamenttattoo.com/judaspriest.