JACKYL TO RELEASE 8TH STUDIO ALBUM, 'ROWYCO,' ON AUGUST 5TH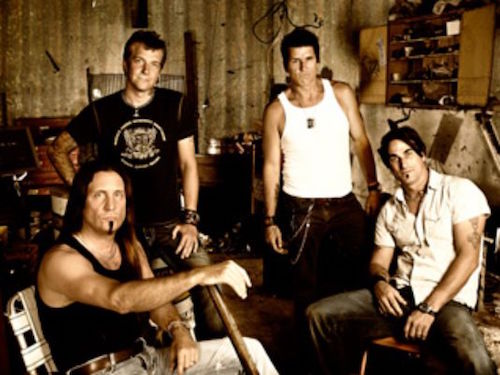 Jackyl has announced that their brand new album, ROWYCO, will be released on August 5th via Mighty Loud Records. ROWYCO (let us know when you figure this one out) is the fattest sounding record to date for the band.
"This will be an exciting year," predicts lead singer Jesse James Dupree. "With the album's release timing perfectly with the grand opening of the Full Throttle Saloon, in Sturgis, South Dakota. The original location burned to the ground last year AND they are building back bigger and better than ever."
The Full Throttle Saloon enjoyed a six year run of a hit reality television show of the same name, which documented owner Michael Ballard and Jesse's struggles to get the bar up, running and profitable during the world's largest motorcycle rally.
The first single off of ROWYCO, Rally, is the perfect song to kick off summer, as it's time to rally for ROCK! "There is not a better song than Rally to set the pace for an incredible summer 2016," exclaims Jesse. So crank that bitch up!" Listen to the song here.
As far as the album as a whole, "It's a Jackyl record at its core, but there are some tracks, lyrically, that I went a little deeper on a personal level with some things I had going on at the time. It is the thickest sounding production that we have ever recorded. It's just a huge slice of rock. ROWYCO' is a very diverse album and every track has its purpose."
Also, with Jesse and co. set to continue their latest tour on June 8th in Pennsylvania, this is shaping up to be the summer of Jackyl!
ROWYCO track list:
Disasterpiece
Rally
All Night Rodeo
Ahead of My Time
Just Because I'm Drunk
Everyone's A Winner
Crazy
Hammer To The Head
Limpdick
Blast Off
To pre-order the album, visit Amazon or iTunes.
Jackyl Tour Dates:
6/8 Sharon, PA Quaker Steak & Lube
6/10 Rothbury, MI Sandy Corley Memorial Run @ Double JJ Resort
6/11 Fond Du Lac, WI Walleye Weekend @ Lakeside Park
6/17 Stroudsburg, PA Sherman Theater
6/18 Loudon, NH New Hampshire Motor Speedway / Loudon Classic
6/19 Portland, ME Asylum
6/24 Mount Vernon, OH Legends Sports Bar
6/25 Johnstown, PA Thunder in the Valley @ Peoples Natural Gas Park
6/26 Baltimore, MD Baltimore Soundstage
7/1 Simpsonville, SC Independence Slam
7/2 Scott City, MO Great River Rally at Lawless Harley Davidson
7/13 Erie, PA Roar on the Shore
7/15 Mineral Wells, WV WV Interstate Fair
7/16 Marion, IN Brandt's I-69 Harley Davidson
7/22 Pompano Beach, FL Pompano Beach Ampitheatre
7/23 Comstock, NE Comstock is Back Festival at 2nd Wind Ranch
7/29 Van Wert, OH Wetzelland 30th Anniversary Motorcycle Rally
7/30 New Albany, IN The Backyard
8/19 Milford, IA Boji Bay Fun Pavillion
9/1 Oklahoma City, OK Diamond Ballroom
9/2 Manhattan, KS RC McGraw's
9/3 Clear Lake, IA The Surf Ballroom
9/6 Minot, ND The O'Riginal Bar & Nightclub
9/9 Hinckley, MN Grand Casino Hinckley Amphitheatre
9/17 Sunrise Beach, MO Picklehead's Roadhouse
11/25 Indianapolis, IN 8 Second Saloon
Jackyl on the web:
jackyl.com
facebook.com/OfficialJackyl