JACK RUSSELL'S GREAT WHITE TO CELEBRATE THE 30TH ANNIVERSARY OF "ONCE BITTEN" WITH AN ACOUSTIC ALBUM AND TOUR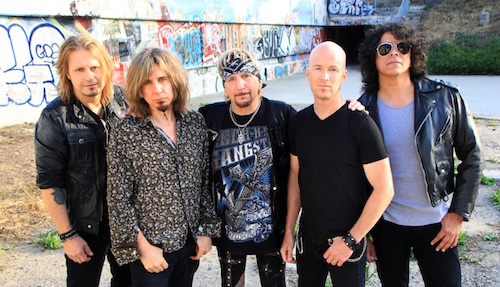 Jack Russell's Great White will celebrate the 30th anniversary of Great White's hit album Once Bitten with a tour and new acoustic album, Once Acoustically Bitten. The acoustic album will be released on July 14th and the band will begin their U.S. tour on July 6th. They will stay on the road through summer and into fall playing songs off their new acoustic release, the multi-platinum Once Bitten album and, on some shows, the entire album from start to finish.
Before the tour kicks off, the band will be previewing material from the upcoming release on June 29th — the original release date for Once Bitten — at Guitar Center in Los Angeles. Fans will be able to watch the entire performance on Facebook Live at 7 p.m. PST on the band's Facebook page. A week later they begin the tour in Kansas and will hit cities across the U.S. including Fort Collins, Pasadena, Cincinnati, Los Angeles, and more.
"The Once Bitten album for me was the album that finally put us in the musical space that I felt the band should be in," says lead singer Jack Russell. He goes on: "We had been searching prior to that… our first album was kind of similar to Judas Priest and our second album was very keyboard heavy. The Once Bitten album hit and we all just knew this was our area, this was where we should be.
"This new acoustic record is an homage to thirty years of making music and thirty years since our first, big platinum album. Three decades later and we're still able to go out there and sing and play for our fans. It's a blessing."
Tour dates:
Jul. 6 – Salina, KS – Concert in the Park
Jul. 7 – Ft. Collins, CO – Bobstock
Jul. 8 – Columbus, NE – Platte County Ad Society
Jul. 12 – Cadott, WI – Chippewa Valley Fairgrounds
Jul. 14 – San Juan Capistrano, CA – The Coach House
Jul. 15 – Hermosa Beach, CA – Saint Rocke
Jul. 21 – Lima, OH – Allen County Faigrounds
Jul. 28 – Bonner Springs, KS – Providence Med Amp
Aug. 4 – Cincinnati, OH – Bogarts
Aug. 5 – St. Germain, WI – Community Park
Aug. 11 – Three Forks, MT – Rockin in the Rivers
Aug. 12 – Draper, UT – Leatherlands
Aug. 13 – Jerome, ID – Jerome County Fair
Aug. 18 – Terre Haut, ID – The Bird
Aug. 24 – Addison, IL – Rock N Wheels
Aug. 25 – Agoura Hills, CA – Canyon Club
Aug. 26 – Pasadena, CA – The Rose
Sep. 1 – Scottsdale, AZ – BLK Live
Sep. 9 – Savnna, IL – Poopy's
Sep. 15 – Roland, OK – Cherokee Casino
Sep. 22 – Largo, FL – Central Park PAC
Oct. 14 – Prior Lake, MN – Mystic Lake Casino
Oct. 27 – Pekin, IL – Avantie Dome
Nov. 5 – Pembroke Pines, FL – Rockfest 80s
Dec. 29 – West Hollywood, CA – Whisky A Go Go
Jack Russell's Great White's debut album, He Saw it Comin', was released on January 27th through Frontiers Music Srl. The CD features Jack Russell alongside former Great White bassist-turned-guitarist Tony Montana (as a guitar player and keyboardist), Dan McNay (Montrose) on bass, Robby Lochner (Fight) on guitar and Dicki Fliszar (Bruce Dickinson) on drums.
Listen to audio of the song, Love Don't Live Here, from, He Saw it Comin', here.