DRUMMER VINNY APPICE SAYS THAT RONNIE JAMES DIO WOULD HAVE BEEN "PISSED" OFF AT GENE SIMMONS' ATTEMPT TO TRADEMARK "DEVIL'S HORN" HAND GESTURE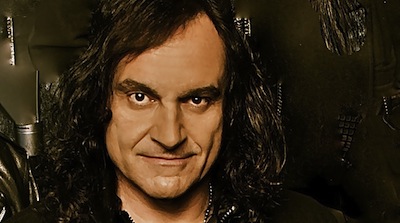 Drummer Vinny Appice (Black Sabbath, Heaven & Hell, Dio) tells the, Ouch You're On My Hair podcast, that if Ronnie James Dio were still alive, he would be "pissed off" at Gene Simmons' attempt to trademark the "devil's horns" hand gesture.
Appice said, "Ronnie's hand gesture thing is an old Italian thing; it's called the maloik. And his grandmother showed him that and used to do that, and so did the elders in my family too. And that's to put… one way's to put horns on people, and the other way is to wish 'em good luck. So Gene couldn't have invented it, because it's an old Italian thing. And if Ronnie was alive, man, he'd be pissed off. Oh, yeah!"
Did, himself, reportedly took issue with Simmons, once stating, "Gene Simmons will tell you that he invented it. But then again, Gene invented breathing and shoes and everything else."
Without disclosing the motivating factor, Simmons recently withdrew his trademark application.