IRON MAIDEN "THE BOOK OF SOULS" TOUR RETURNS TO NORTH AMERICA, PRUDENTIAL CENTER AND BARCLAYS CENTER PERFORMANCES DATES ANNOUNCED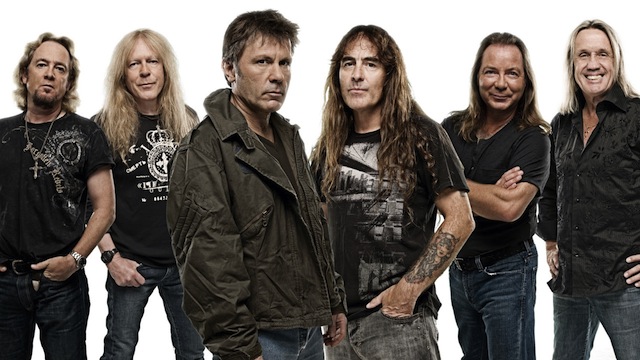 Iron Maiden's hugely successful The Book Of Souls World Tour will return to North America for an extensive series of arena and amphitheater shows in summer 2017. The mammoth tour opened in Florida last February playing fourteen sold-out shows in the U.S.A and Canada along with a further 58 concerts in 34 other countries around the globe.
First night reviews from Ft Lauderdale called it "…a full-throttle, devil-may-care performance that thrilled a sold-out BB&T Center" (Sun Sentinel) with Revolver magazine reporting how the band's legendary mascot Eddie dominated the Maya-themed stage: "From a walking zombie towering over band members during the set, to being featured on a host of back-drops and huge blow-up figures – the quintessential symbol was omnipresent for the entire show" including Eddie having his heart literally ripped out of his chest and hurled into the crowd by singer Bruce Dickinson.
The full list of dates:
June:
3 Bristol, VA Jiffy Lube
4 Philadelphia, PA Wells Fargo Center
7 Newark, NJ Prudential Center
9 Charlotte, NC PNC MUSIC PAVILION
11 Tampa, FL Amalie Arena
13 Nashville, TN Bridgestone Arena
15 Chicago, IL Hollywood Casina Amphitheater
16 Minneapolis, MN Xcel Energy Center
19 Oklahoma City, OK Chesapeake Arena
21 Houston, TX Toyota Center
23 Dallas, TX American Airlines Center
24 San Antonio, TX ATT&T Center
27 Albuquerque, NM Isleta Ampitheater
28 Phoenix, AZ Talking Stick Resort Areana
July:
1 San Bernardino, CA San Manuel Ampitheather*
3 Las Vegas, NV T-Mobile Center
5 Oakland, CA Oracle Arena
7 Salt Lake City, UT Usana Amphitheater
9 Lincoln, NE Pinniacle Bank Arena
11 Kansas City, MO Sprint Center
12 St Louis, MO Hollywood Casina Ampitheater
15 Toronto, Canada Molson Amphitheatre
16 Quebec City Canada Videotron Centre
19 Mansfield, MA Xfinity Center
21 Brooklyn, NY Barclays Center
*There will also be some further bands added to the show at San Bernardino.
Steve Harris commented, "We are really looking forward to returning to North America for a full tour. We had always planned to go back there and to the UK as last year, due to the global nature of the tour and the period it took, we just didn't have time to cover them properly and we do still like to get to fans in as many places as possible.
So this year we're able to reach many more cities in America, including a return to places Maiden haven't played for many, many years like Lincoln Nebraska, Minneapolis, Oklahoma City and Oakland California. We also welcome playing in Brooklyn for the first time.
We will, of course, be bringing the full production with us including all the Eddies and the Maya-themed stage sets. There's been a great reaction from everyone to this tour's theme, people really seem to love it. We're still deciding on the final set-list and we'll work that out once we get into rehearsals. Most of our North American fans haven't seen the show yet so as we want to give them the same Book Of Souls live experience that we took around the world, it's unlikely we'll change much. And of course we know our fans appreciate us playing a lot of the older songs too, so we will continue to do that!"
Tickets for the Prudential Center and Barclays Center performances go on-sale Saturday, January 28th at 10am through Ticketmaster. As usual, there will be an exclusive pre-sale for Iron Maiden Fan Club members, details of which can also be found on ironmaiden.com along with information on how Fan Club members can participate in the draw to be "First To The Barrier".
Iron Maiden are delighted to welcome are delighted to welcome Ghost as their special guests for the North American leg of The Book Of Souls World Tour.
After great feedback to last year's North American trial of the concept, Maiden fans will again be able to enjoy a Trooper VIP upgrade package that will allow them early access to the venue, a pile of Trooper goodies and Maiden swag, Trooper beers, food and a designated area to meet with other fans, plus the opportunity to win some great prizes. The upgrade packages are available at US$199 from troopervip.com. The concert ticket must be purchased separately.
For the 2017 shows Maiden will once again, in conjunction with the Promoters, be implementing a partial paperless ticketing system in as many venues as possible, which they have been successfully doing since 2010 and has worked well in lessening the ticketing scalping and drain of the prime tickets into the Secondary Ticketing sites.
The Book Of Souls is Maiden's first ever double studio album and their most successful chart-wise to date, debuting at the Number one spot in over 40 countries around the world and Number four in the U.S.A.