HOW BON JOVI STAYS RELEVANT WITHOUT LOSING ITS ROOTS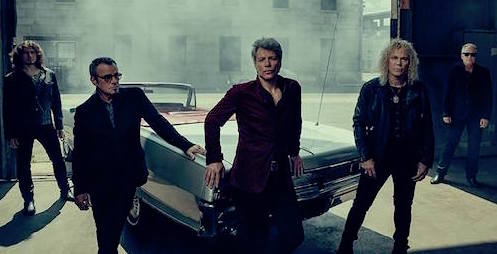 Bryan Reesman of Newsday reports:
The group conquered the glam masses in the '80s, but Bon Jovi has since evolved and ascended to the status of rock royalty. The band's latest release,This House Is Not for Sale, is its sixth number one album, and the guys were inducted last month into the Rock and Roll Hall of Fame, 35 years after being signed to Mercury/PolyGram Records. But when the group headlines two shows at Madison Square Garden on May 9th and 10th, do not expect a nostalgia ride. Bon Jovi has scored plenty more hits since the '80s, and nearly half of their current sets are post-'90s songs.
"Jon wants to remain relevant, or certainly remain in the public eye and not be a tribute band to themselves," says Derek Shulman, the former A&R vice president at Mercury who signed the band and helped develop them during the '80s. Shulman says the group can play so many newer tunes because their fans "are patiently waiting for Livin' On a Prayer and It's My Life. And he has a such a huge litany of hit songs."
"I've always felt that one of the really impressive things about what Jon has been able to do is advance his audience," says Sirius XM host Eddie Trunk. "Whether you like what they do or not now is irrelevant. You have to respect and appreciate the fact that the guy has been able to constantly reinvent himself and the band and keep it relevant," whether through lineup changes or mixing new music in equal measures into their concerts."
Trunk notes Bon Jovi's millennial radio conversion from rock to adult contemporary and the purposeful image shift from '80s glam to a more mature look, plus the influence of fellow Jersey native Bruce Springsteen in creating a larger ensemble onstage. "He's built his own E Street Band," says Trunk. "He uses contemporary producers and different songwriters. He uses producers that aren't known for making hard rock records. He's put one of those guys, John Shanks, in the band, so it's a completely different philosophy."
Shulman attended the band's Rock Hall induction last month and a celebratory party organized by Jon's wife Dorothea that brought together the key players who helped the group achieve their massive success, including former manager Doc McGhee, songwriter Desmond Child and former members Richie Sambora and Alec John Such. Child's husband Curtis Shaw and their twin sons Roman and Nyro (Jon's godsons) also attended the events.
"The party had these two long tables, it was like 'Downton Abbey,' " says Child, who recently received the ASCAP Founders Award. "It was the most beautiful, perfectly executed event ever. The show was the next day, and everything went flawlessly. I don't think they've played so exuberantly ever. They were so excited." Child particularly praised the Bon Jovi camp for their gracious treatment of Sambora and Sambora's partner Orianthi, and he was moved seeing Bon Jovi and Sambora perform onstage again.
Child first made his name writing and learning about arena rock songs with Kiss, then brought that know-how to Bon Jovi and Sambora, with whom he collaborated for over 15 years. "From day one, it was instant chemistry," says Child. "The combination of the skills of the three of us is killer."
Shulman enjoyed being around Jon and the band for their celebration, and he says that despite living in a world of billionaires, Jon, not to mention his bandmates, showed humility. "They didn't forget who they were, what their roots were, and who had helped them over the years," says Shulman. "That's very unusual in this business."
source: newsday.com/entertainment/music