GUNS N' ROSES REPORTEDLY "DAYS AWAY" FROM ANNOUNCING A REUNION TOUR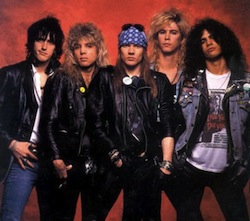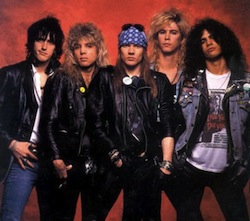 Dish Nation reports:
Legendary ​rock giants ​Guns N' Roses​ are ​​"days away" from announcing ​a​ world​ reunion tour ​next year, Dish Nation is exclusively reporting.
Guitarist Slash ​has confirmed that he ​and lead singer​ Axl Rose have​​ ​reconciled after ​almost a decade of ​arguments and now Los Angeles music insiders close to the band say they ​have tentatively​ agreed to perform together again in 2016.
It's expected that they will headline several festivals across Europe and the United States before heading out on a staggered world tour that will coincide with their 30th anniversary​.
"Slash and Axl have verbally agreed to get things together again and reform the original band. The live shows is where they can show the world what they had and also make the greatest earnings," ​a music insider exclusively told Dish.
"Promoters are quietly working away to land opportunities. Details of the reunion are expected to leak out in the next few days. Everyone is expecting huge demand for tickets, but the boys are very humble and are not sure what to expect."
Reports have recently come out saying that the band has been offered gigs in Australia, Sweden and Portugal — although reps for the band have refused to comment.
Last month a friend close to Slash confirmed that he and Axl are now talking again and a comeback tour ​is close to being rev​e​aled.
Marketing experts say that the American band are on course to bank a whopping $100 million thanks to ticket sales, CD revenue, licensing and merchandising.
"I know that he and Axl talking again is a really good sign, because we all grew up loving Guns N' Roses. I mean I am an LA kid and I remember when they were playing the Sunset Strip," ​Slash's close friend John Murdy told the UK's Mirror.
"It is so cool to see these guys back when they have been around so long."
G​uns N' Roses keyboard player Dizzy Reed ​recently hinted a band ​comeback is close​, too.
"With GNR, timelines don't really apply," Dizzy told Loudwire.
"And that's fine, things will come out when they're ready and we'll go on tour when we're ready…"
​Even Slash, who refused to speak with Axl, has painted the singer in a more positive light.
"There's no animosity. Over time we all just got sick and tired of the black cloud," Slash said in an interview with CBS.
"The biggest thing that happens when you have a break up that is less than harmonious, you build up a bad energy because of the distance. The bad feelings get exaggerated."
It has been over two decades since Slash, Axl, Duff McKagan, Izzy Stradlin and drummer Matt Sorum all stood on stage together to perform on their "Use Your Illusion" tour.
It wrapped July 17, 1993 in Argentina, and since then Axl has only since brought Duff and Izzy onto the stage with his new Guns N' Roses band. However, he refused to appear at the 2012 Rock and Roll Hall Of Fame Museum induction.
The band — which started in a Hollywood deli​ and were signed in 1986​ — sold over 100 million albums worldwide.
source: dishnation.com