GUNS N' ROSES RELEASE "PERHAPS," LISTEN HERE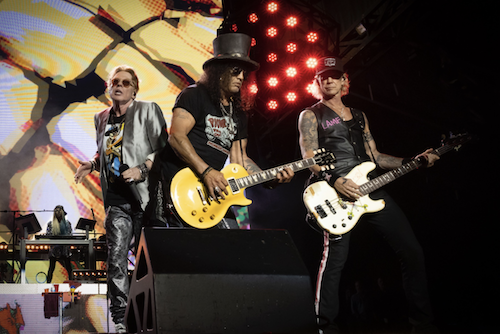 A previously unreleased, Chinese Democracy era Guns N' Roses song titled, Perhaps, has been released for radio airplay today, and can be heard, below.
The band reportedly sound checked the song ahead of the band's concert in Tel Aviv, Israel on June 5th, but ended up not performing it, at the show . However, astute fans who stood outside the venue during soundcheck were quick to bust out their phones and record the rehearsal, with low-quality clips surfacing online immediately thereafter.
Like the 2021 single Hard Skool (listen here), Perhaps was originally written and recorded during the sessions for Chinese Democracy.
Guns N' Roses' longtime production manager Tom Mayhue discussed the outfit's future plans while speaking to the media ahead of the bands' July 13th concert in Paris, France. Noting that they will finish the North American leg of its tour in mid-October, he said, "And I know that the band's gonna start working on new music. They've got a bunch of stuff recorded already. So there will be new Guns N' Roses music very soon. In fact, I think they're trying to get a single [Perhaps] out any day now, so you may hear something very, very soon."
GN'R's most recent release was a four-song EP, Hard Skool, which came out in February 2022. The effort, which was exclusive to the band's official store, contained the two new songs the band released in 2021 — the title track and Absurd (listen here) — as well as live versions of Don't Cry and You're Crazy.
Upcoming 2023 North American Tour Dates:
Aug 18 – Pittsburgh, PA – PNC Park
Aug 21 – Boston, MA – Fenway Park
Aug 24 – Chicago, IL – Wrigley Field
Aug 26 – Nashville, TN – GEODIS Park
Aug 29 – Charlotte, NC – Spectrum Center
Sep 1 – Saratoga Springs, NY – Broadview Stage at SPAC
Sep 3 – Toronto, ON – Rogers Centre
Sep 6 – Lexington, KY – Rupp Arena
Sep 9 – St. Louis, MO – Busch Stadium
Sep 12 – Knoxville, TN – Thompson-Boling Arena
Sep 15 – Hollywood, FL – Hard Rock Live
Sep 17 – Atlanta, GA – Music Midtown Festival
Sep 20 – Biloxi, MS – Mississippi Coast Coliseum
Sep 23 – Kansas City, MO – Kauffman Stadium
Sep 26 – San Antonio, TX – Alamodome
Sep 28 – Houston, TX – Minute Maid Park
Oct 1 – San Diego, CA – Snapdragon Stadium
Oct 6 – Indio, CA – Power Trip Festival
Oct 8 – Sacramento, CA – Aftershock Festival
Oct 11 – Phoenix, AZ – Chase Field
Oct 14 – Seattle, WA – Climate Pledge Arena
Oct 16 – Vancouver, BC – BC Place