GUITARIST STEVE BROWN SAYS HE MODELED TRIXTER AFTER VAN HALEN, "I WANTED THE BAND TO BE A KID VERSION OF THEM"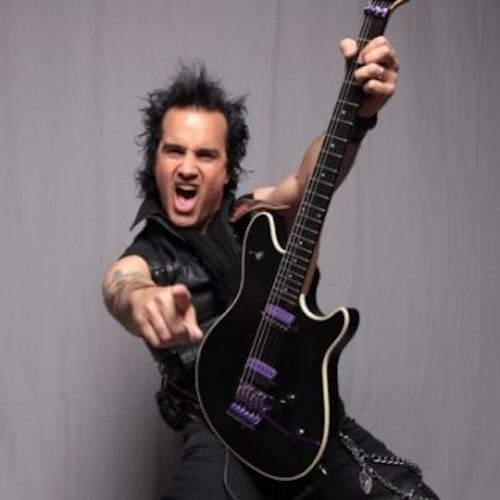 Ruben Mosqueda of KNAC.com spoke with guitarist Steve Brown (Tokyo Motor Fist, Trixter). Portions of the interview appear below.
KNAC.com: You're back with another Tokyo Motor Fist, album [Lions]. So glad you did another album.
Brown: We're a real band, we're not one of these fabricated Frontiers [Records] or Golden Robot [Records] "supergroups" where they get a guy from this band or that band, they do one album and basically a quick cash grab. We are a real band, always have been. This band has real history. We are all like brothers, we all grew up together. Chuck [Burgi] and Ted [Poley] are North Jersey guys, like I am. We have all known each other for like 35 years. I knew Chuck back when he was the drummer in Rainbow. Ted, I have know [since] he was the drummer in the New Jersey band Ptophet, then he went on to front Danger Danger, so you see we have a lot of history between us. That goes for Greg [Smith] as well. People that have seen us live…oh yeah, that's another thing, we actually play live. People see the chemistry when we play together. Listen, I don't blame people for doing what they need to do with their bands, but we play live, we are a band and I think that puts us way ahead of these other "supergroups."
KNAC.com: Tokyo Motor Fist was on the 2020 Monsters of Rock Cruise, I believe.
Brown: Yeah, we were and thank God we were on that because those two performances on there were the last two shows we've done in 2020, thanks to the pandemic.
KNAC.com: What were the pros and cons to putting out new music during a pandemic?
Brown: We've never been in this sort of situation ever, my parents are 85 years old and they're never been through something like this. I don't know. I'm not the record company. Frontiers chose to put it out on July 10th…I know a lot of friends in bands are holding on to their records because they aren't able to promote it with a tour. It's not my call. I will say,…this record is coming out at a time when people really need this record and the message of Lions. I don't know if you know but we have Dennis DeYoung formerly of Styx on the title track playing keyboards…This album features by far the best guitar work that I have ever done. It's the best sounding album that I have ever done. The great Bruno Ravel of The Defiants and Danger Danger mixed the record. This is everything that a melodic hard rock fan loves in an album. We've left no stone unturned on this rock.
KNAC.com: Speaking of you being all smiles, I remember seeing Trixtee open for Scorpions on the Crazy World Tour in Portland, Oregon. You're not kidding when you say you're running and jumping around the stage with a huge smile on your face.
Brown: Yeah, that's what we were man, Trixter was modeled after Van Halen. I wanted the band to be a kid version of them. We brought in the good times, party vibes and lots of laughs and smiles. We love what we do, there's no reason not to have a huge smile on your face.
KNAC.com: What's been the biggest thing that you've taken from the time you've stepped in to help Def Leppard?
BROWN: The coolest thing about Leppard is the guys. They have been together for 40 plus years and they still share the same dressing rooms. I can't tell you how many bands use separate dressing rooms and at times don't even talk to one another. The organization from management to the crew to the band, they are all great people. The biggest take away is their humility that they have. They always have time for their fans to take a picture, say hello, and sign an autograph. They are great ol' chaps! [laughs] They have people who have been working with the organization for 20 plus years and they are loyal to their crew. When I filled in Vivian [Campbell] or Phil [Collen] they took care of me like I was in the band. I traveled with them, I ate with them, I got changed with them, I was included. The only thing that I didn't get was one of those Def Leppard bathrobes! [laughs] Hey guys if you're reading this, I'm still waiting for that. [laughs] They are wonderful people and I'm proud to call them friends.
Read more at KNAC.com.
To see videos from the songs Youngblood and Around Midnight, from Lions, click on the highlighted song titles.