GUITARIST PAUL CROOK DISCUSSES MEATLOAF, ANTHRAX AND SEBASTIAN BACH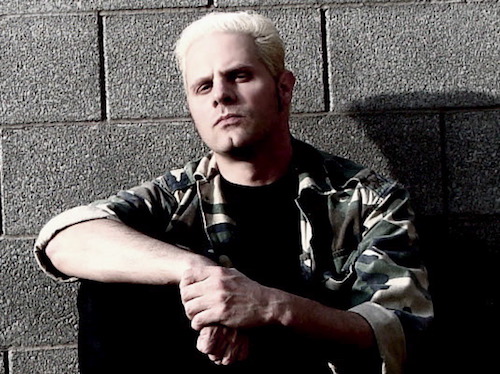 Ville Krannila for kkdowning.net's steelmill spoke with guitarist Paul Crook. Highlights from the interview appear below.
Steelmill: Why is Meat Loaf's band called Neverland Express?
Paul Crook: Jim Steinman is a huge fan of Peter Pan.
Steelmill: Any more Meat Loaf albums planned for the future?
Paul Crook: Meat has talked about a couple of ventures with me. Not sure if they will ever happen. Albums are expensive to make with literally no chance of recoup due to today's pirating.
Steelmill: What are the next shows and tours coming up for you with Meat Loaf?
Paul Crook: There is nothing planned. Meat is busy "acting" at the moment.
Steelmill: As well as producing the Anthrax album Vol. 8 The Threat Is Real you also appeared on their 1995 album Stomp 442. Why were you called in to replace Dan Spitz on that album? Dimebag Darrell also appeared on two songs off of this album. What was he like and what was it like working with him? What was behind the idea of not using the Anthrax logo on the cover of the Stomp 442 album?
Paul Crook: I have never spoken to Dan Spitz about this. I believe it had to do with him simply not enjoying his time with the guys when it came down to the creative process. He stopped showing up at rehearsal. One afternoon in 1992, I had to drive past the Anthrax rehearsal building to get home so I decided to stop in. Charlie (Benante) was by himself, recording guitars. He asked me to plug in a guitar and jam a solo. Things simply escalated from there.
Darrell… No need to talk about him in a musical sense. We are all aware of his incredibly important contributions. That said, Darrell was very kind, intelligent, engaging and fun. Like so many of us, I am honored to have been personally abused and targeted by his antics.
Regarding the Anthrax logo, I don't have an answer for you.
Steelmill: Why did you not stay a permanent member of Anthrax? Do you still keep in touch with any of them?
Paul Crook: I was never asked to be a "member". It worked out better for all of us. I always look forward to seeing them whenever our touring schedules align. Wonderful guys.
Steelmill: In 1999, you joined Sebastian Bach and stayed in his band until 2004. Why did you only have one recording out of that time with him? That recording was Rock Bottom on a KISS tribute album.
Paul Crook: Bas lived about 20 minutes from me. We got to know each other well. I remember the phone ringing at 9am on a Monday morning…
Bas: "Hey dude."
Me: "Hey, what are you doing up so early?"
Bas: "I have kids, dude. Wanna join my band?"
Me: "Hell Yeah!"
Bas: "Cool, see you at noon!"
The lack of recording has all to do with timing. He wasn't looking to write. He just released a new album. We spent our time touring it. He then began his Broadway career. We would do shows around his theatre schedule. Sebastian Bach is a badass. I truly believe the universe worked that experience for me. There is no way I could have handled Meat Loaf if it wasn't for Bas "priming" me.
Steelmill: You co-own a successful entertainment company out of Las Vegas called Devil Star Entertainment with John Madera and it's doing well. You sell an assortment of Spirits like Cherry Blood Moonshine, Hemp Infused Vodka, and Apple Flavored Whiskey among others (liquorama.net), there is Devil Star Music, Devil Star Records, and beautiful models. How did all of that get started? What made you decide to get into owning the business? Where can people look for info on the company?
Paul Crook: John found me on LinkedIn. He gave me some broad thoughts and attached a logo. It seemed fun so I jumped in. The beverages taste great. I'm not just saying that. We recently held a Distributor Tasting Event. Everyone there was sold immediately. We use all natural ingredients as well. You mentioned "beautiful models." Yes, we have those and we also have really cool women and men with zero experience in front of the camera submitting photos of themselves wearing our DevilStar T-shirts. We truly appreciate all of them equally.
We've released our first song for download this past month. It is written and performed by UK guitar phenom, Andy James. The guy is off the charts with regard to owning the fretboard. Type Hellectric into the iTunes store browser and listen to the snippet (then click purchase, please). Andy is a terrifying player. Anyone interested in learning more can visit: devilstarentertainment.com.
Steelmill: What does 2017 and beyond hold for Paul Crook?
Paul Crook: 2017 has been weird. Meat Loaf canceled the "Braver Than We Are" tour. This is the album I produced, engineered and mixed. We had plans to take this music around the world then everything came to an abrupt stop due to health issues. It is nothing remotely life threatening. I've been keeping myself busy in the studio. Hoping I can release information soon on a fun venture. Saying this, I am available and looking for my next touring venture. I also have a really great cover band – Gotham. We play industrial metal around the New Jersey area . We have fun mashing-up 1970's Hard Rock songs.
Gotham is:
Mark Tornillo (Accept, TT Quick): vocals
Scott Metaxas (Nuclear Assault, Prophet): bass & vocals
Craig Scoppa: drums
Paul Crook (Meat Loaf): guitar & backing vocals
Here is one of our songs:
Read more at kkdowning.net's steelmill.
source: kkdowning.net/steelmill/Interviews