GUITARIST NUNO BETTERNCOURT SAYS EXTREME HAS 17 SONGS WRITTEN FOR THEIR NEXT RECORD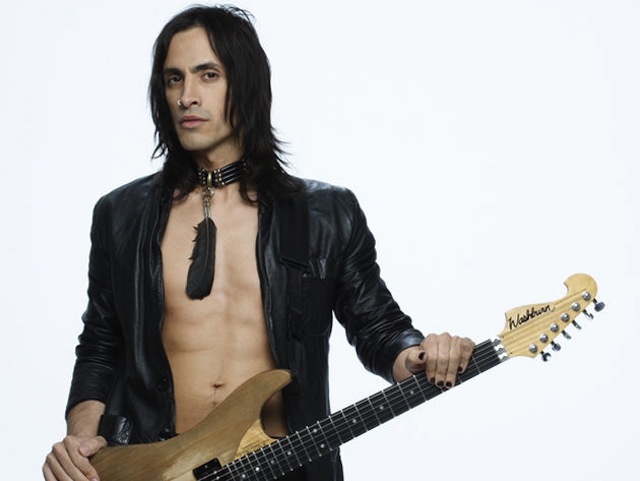 Extreme have confirmed they've written "about 17 songs" for their upcoming album.
They band reported in July that work on the follow-up to 2008's Saudades De Rock had begun. Now guitarist Nuno Bettencourt says the material is beginning to take shape.
He tells Gearphoria, "We're about 17 songs into it. We're just wrapping them up. We've got to do vocals and some guitar – slowly but surely.
We're going to release it early next year – whether that's February or early spring. This thing is coming out, even if I've got to leak this f–king thing."
Bettencourt adds, "I'm trying to incorporate this [signature guitar] N7 that I have — the seven-string. I struggle enough with six strings, but I'm trying to get some different sounds going. In a way, I'm also trying to go back a bit, simplify stuff. I'm not trying to do an album of the past, but I want it to be rock and roll, you know? I think that is what we need more than anything is to get some raw rock and roll out there."
When asked how he feels about their 1990 single, More Than Words, that went on to become a global hit, he says, "I've always had a pretty good relationship with that song. People ask me all the time if I'm sick of it, is it a curse? I tell them, 'We put it out, it's a hit and it turned new fans on to the Pornograffiti album.'
"…I'm proud of it – there was no evil ballad plan. We wrote as comfortable and relaxed as any other song. I'll take any song that connects with that many people. I'll write as many as I can – whether it's ballads or rock tracks."
Loud And Proud Records will release an Extreme package titled Pornograffitti Live 25/Metal Meltdown on September 23rd. It'll arrive on DVD, Blu-ray and audio CD and was recorded at the band's show at the Las Vegas Hard Rock Casino on May 30, 2015, where they performed the record in full. It's available for pre-order from Amazon.
Extreme have a handful of live dates in the Far East planned over the coming weeks.
Pornograffitti Live 25/Metal Meltdown track list:
1. Decadence Dance
2. Li'l Jack Horny
3. When I'm President
4. Get the Funk Out
5. More Than Words
6. Money (In God We Trust)
7. It's (a Monster)
8. Pornograffitti
9. When I First Kissed You
10. Suzi (Wants Her All Day What?)
11. Flight of the Wounded Bumble Bee
12. He-Man Woman Hater
13. Song For Love
14. Hole Hearted
15. Play With Me (DVD, Blu-ray only)
16. Cupid's Dead (DVD, Blu-ray only)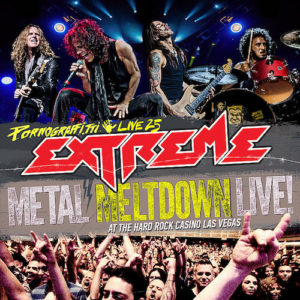 additional source: Classic Rock via teamrock.com