GUITARIST MICHAEL SCHENKER DISCUSSES HIS NEW LIVE CD AND SAYS "EVEN IF WE WANTED TO FIX SOMETHING, WE COULDN'T DO THAT"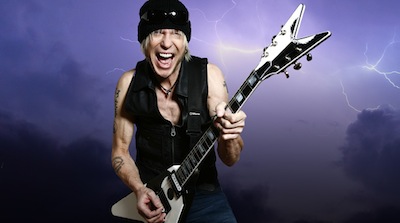 As previously reported, Michael Schenker's Temple of Rock released a live CD, DVD and Blu-ray, titled On A Mission: Live In Madrid, on April 27th in Japan, April 29th in Europe, and May 6th in North America.
Schenker spoke with Greg Prato of Bravewords about this release and other topics. Selected quotes from the feature article appear below.
Discussing how On A Mission is an authentic live CD/DVD/Blu-Ray:
"We decided that even if we wanted to fix something, we couldn't even do that, because there were so many microphones all over the place in the venue, that if you fix a note, you still hear the old one. You can't get rid of it. So it was a good thing that everything worked out well."
Schenker on how he categorizes his career and life:
"I must say, my life comes in three sections – so that will make it how I relate to the current people I play with. There are three chapters, and they all have purpose. In my first chapter, I did my musical contribution – it was created to the world and was created in the '70s. I did it unconsciously – I had no idea what I created then. Rudolf, my brother, called me up from America in the '80s, and said, 'Michael, they're all playing your style here!' I said, 'No way!' I was not aware of that.
In the middle years, after I had left the Scorpions after Lovedrive, after I opened the door of America for them, I withdrew, and I was more into experimenting musically and developing on a personal level. Which the middle years were important for me. In 2008, I had this incredible urge to be on stage, and I never liked to be on stage. So, I don't understand why all of a sudden I wanted to be on stage. So the middle years, actually prepared me and told me what I actually did in the beginning, and now, in my third phase, I can consciously continue where I left off in the first phase – with the help of the middle years – and enjoy now and bring everything to the next level."
Read more at Bravewords.
additional source: bravewords.com