GUITARIST KERI KELLI TALKS ABOUT HIS NEW BAND, A NEW REVENGE, FEATURING TIM"RIPPER" OWENS, RUDY SARZO AND JAMES KOTTAK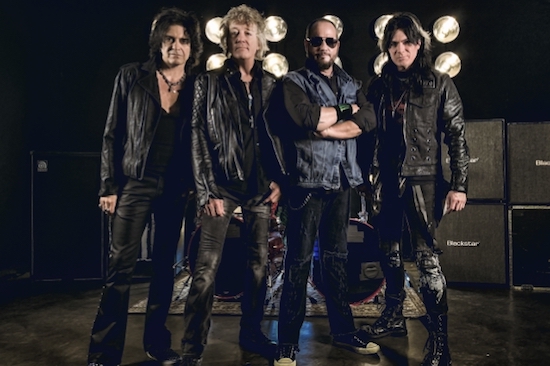 Ruben Mosqueda of Sleaze Roxx spoke with current A New Revenge guitarist (Slash's Snake Pit, Alice Cooper, Vince Neil Band, etc.), portions of the interview appear, below.
Sleaze Roxx: So who got the ball rolling with A New Revenge? I assume it was James [Kottak] and you?
Keri Kelli: Absolutely, it was roughly about six, seven years ago, not that we actually performed together, but that we spoke about doing something together. The idea was 'incubated' — let's put it that way. We were on a monthly long tour at the time. We spoke about doing something when we had some down time from our respective bands at the time. I knew Tim from some of the various projects, and friends, who had performed with him in the past. I called him up and he was all about it. I spoke with the guy that had put the tour that we were on at the time and he said, "Hey, if you guys put something together, I'll bring you to Russia 
and you can do some shows!" I spoke with Rudy [Sarzo] and he had worked with the promoter before, when he was in Dio. It took about a year after our first initial talk about doing something, that we put the band together and we went back to Russia. It was first a "jam band," where we performed the songs from the bands that we were all associated with. We did a couple of tours within a couple of years, then we started talking about doing some original material. We all have studios in our homes, so we started writing songs, when we had time. The process took about two years.
Sleaze Roxx: Rudy [Sarzo] was the guy that laid down the bass tracks on the album, but Phil [Soussan] is the guy in the video. We know his work with Ozzy, Vince Neil, Billy Idol and currently Last In Line. 
Keri Kelli: Yeah, it's pretty simple. We're all doing something else and have other commitments at times. Rudy is in The Guess Who, I'm in Night Ranger, Tim is touring all over the place with his solo stuff and other bands, James was in the Scorpions for 21 years and is now launching Kingdom Come. The director of the video had everything lined up for the shoot and Rudy had a commitment with The Guess Who. We had everything booked. There was nothing [that] we could do. I had worked with Phil in the past, so I called him up to fill in and he was all for it. In fact, depending on what transpires, we could use Phil if Rudy can't do any shows, due to his commitment with The Guess Who. We're lucky to have not one, but two solid bass players working with us.
Sleaze Roxx: Tim…is known as a metal vocalist. Was it hard for him to go the hard rock route? It certainly had some songs on his solo album that leaned in that direction, but never an entire album.
Keri Kelli: Yeah, as you said, he's been known as this "metal vocalist," and has this powerful "Rob Halford Esque" vocal, but I think a lot of people will be surprised with what he does on A New Revenge. Sure, they are some explosive vocal performances on this record, but there's hard rock stuff on here [too]. I am so proud of him and his performances on this record.
Sleaze Roxx: Be honest, once you've acquired a love for craft beer, you can't drink domestic beer, can you?
Keri Kelli: Not really [laughs! Listen, no offense to BMC [Bud, Miller and Coors] companies, they're great operations. They know how to run a business. They're making millions upon millions of dollars… I don't think I've had a BMC beer in over a decade. That's the God honest truth [laughs]. I'd rather have a vodka and tonic before I'd drink a Budweiser. I just don't believe in some of their practices. They've squeezed out a lot of the small craft brewers with the shelf space in stores. They're very powerful. They own their own distributors so it really puts the pressure on the independent brewers. I shy away from them, but that's just me. Aces & Ales opened at a time when the market was underserved and we capitalized on it. We have gone on to become the craft beer destinations. I say it in plural form because we have two locations.
Read more at Sleaze Roxx.
To read more about A New Revenge, and to listen to the song, The Way, by clicking here.
A New Revenge's new album, Enemies & Lovers, will be released on March 29th through Golden Robot Records.