GUITARIST JOHN 5 DISCUSSES HIS "IT'S ALIVE!" TOUR, PLUS HIS TIME WORKING WITH ROB HALFORD AND DAVID LEE ROTH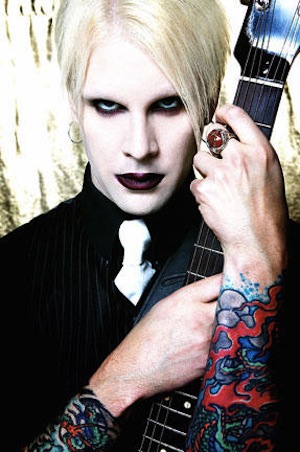 Ruben Mosqueda of Metal Titans spoke with guitarist John 5, whois currently on tour in support of his live effort titled It's Alive!. Portions of the interview appear below.
Metal Titans: How did you connect with Rob Halford [for the 2wo project]?
John 5: I met Rob through producer Bob Marlette. It was an awesome and incredible learning experience. I didn't know a lot at the time and working with Rob was an education for me. Rob was so inspiring to me. I have to tell you in my time working with him he never had a bad night. His voice was always spot on, it was incredible.
Metal Titans: There's a version of Voyeurs that's more guitar oriented is there not?
John 5: There is, what happened was that the record was a heavy guitar oriented record; we were signed in 1997 and Nine Inch Nails was huge. We also happen to be signed to Trent Reznor's label Nothing Records. It was incredible. I went on tour and while I was away he went to mix the record and at the time guitars weren't "the thing" so they wound up taking a lot of them out. The result was more of an "industrial" record which is cool but I personally think the guitar record is much better, but what can you do?! [laughs] I wasn't there to speak my peace. A good song is a good song and you can hear that on the record, people love the record. I proud of it.
Metal Titans: Do you think the alternate "crunch" version will even see the light of day?
John 5: I don't know. That's really up to Halford, but I have to tell you I was just listening to that version a little while ago. Damn! It's so good dude! [laughs] It's really a great record.
Metal Titans: 1998 was a big year for you because that's the year you also did the DLR Band record. How'd you connect with David Lee Roth?
John 5: That was pure luck. I was submitting demos, I knew everything Van Halen. I knew how to play that stuff so well. Dave took a liking to my submissions. I was invited to meet Dave, we got along wonderfully and the rest is history. That reminds me, Maybe I should invite Dave to The Whisky [A-Go-Go] to see if he can make it out. [laughs]
Metal Titans: You have two live records out at the moment; your live solo album It's Alive and Rob Zombie Astro Creep: 2000.
John 5: That's right.
Metal Titans: Are you doing the It's Alive record in its entirety on this tour?
John 5: We mix it up a little bit, but that album is really live. We try to perform the songs [as] perfectly as possible. Each night our goal is to see how close, and how perfect, we can get the songs to the studio versions. It's a lot of fun…
Metal Titans: You have Knights In Satan's Service Instagram which is dedicated to KISS memorabilia.
John 5: Yeah, I was talking to Gene Simmons a while back and I was like "Hey Gene, wouldn't it be great if there was a website where you could get a little bit of information on each and every piece of KISS memorabilia?" So, I took it upon myself to start this Instagram page called Knights In Satan's Service which will spotlight a piece of KISS memorabilia daily and share a little bit of information on it. It's crazy, right?! [laughs] I don't know long we can keep that going, but at this point well past a year. [laughs]
Read more at Metal Titans.
It's Alive! tour dates:
April:
13 DNA Lounge San Francisco, CA
14 Full Circle Brewery Fresno, CA
15 Harlows Sacramento, CA
17 The Complex Salt Lake City, UT
18 Neurolux Boise, ID
19 Domino Room Bend, OR
20 Paris Theatre Portland, OR
21 Tacoma Guitar Festival 2018 Tacoma, WA
It's Alive! track listing:
1. Guitars, Tits and Monsters
2. Flight of The Vulcan Kelly
3. Six Hundred and Sixty-Six Pickers In Hell, CA
4. Here's to the Crazy Ones
5. This is my Rifle
6. Jiffy Jam
7. Hell Haw
8. Season Of The Witch
9. Portrait of Sydney Sloan
10. Triple D
11. Black Grass Plague
12. Behind The Nut Love
13. Making Monsters
14. Beat It
15. Now Fear This
16. Medley
Starting in July, you can John 5 on tour with Rob Zombie.
For more information on John 5, please visit:
John 5 Official Website
Facebook
Twitter
Knights In Satan's Service Instagram
source: metaltitans.com