GUITARIST GARY HOLT SAYS HE WILL NOT QUIT EXODUS FOR SLAYER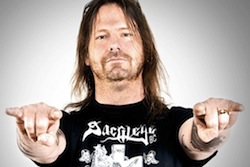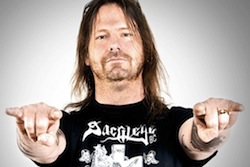 Gary Holt has stated he'd never join Slayer full-time if it meant he had to quit his own band, Exodus.
He was hired by the band after guitarist Jeff Hanneman sustained a near-fatal spider bite in 2011, and has been standing in ever since.
Although, Holt won't rule out taking the position on a permanent basis, he says it'll only happen if he can stay with the band he's been part of since 1980.
He tells Metal Titans:, "Not if it meant the end of what I've doing doing all my life. I've been filling in for just over two years now and I'm booked all year with them. But I'm keeping the work going with Exodus. I've been doing a lot of riff-writing on tour. In the summer with Slayer I'm taking a little digital recording rig with me, so I can continue to working on stuff in hotel rooms."
Slayer are currently performing with two temporary members after they dropped drummer Dave Lombardo following a contractual disagreement.
King recently said he hadn't spoken to Hanneman "in forever," leading him to wonder whether he planned to return at all.
Discussing the band's next album he said, "It's all my stuff for now. I did that just in case – I don't know what Jeff's intentions are. I wanted to have Slayer covered in case he doesn't come to the party."
He also responded positively to the suggestion of Holt becoming a full-time Slayer man: "If Gary played with us for ever, I'm okay with that."
additional source: classicrockmagazine.com