GUITARIST DOUG ALDRICH SAYS THAT DEE SNIDER "WAS NOT EDUCATED AT ALL" WHEN SNIDER CALLED HIM OUT ON TWITTER POSTING THAT ALDRICH CONTRIBUTED NOTHING WHILE IN WHITESNAKE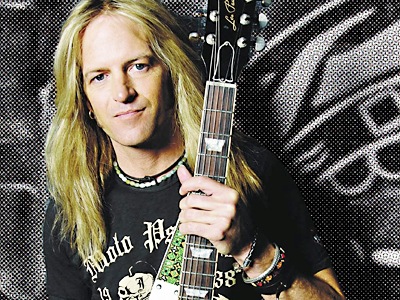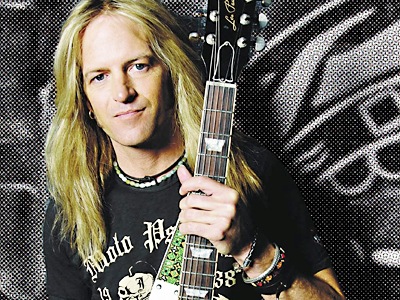 Blabbermouth.net reports:
Former Whitesnake and Dio guitarist Doug Aldrich says that Dee Snider "didn't know what he was talking about" when the Twisted Sister frontman questioned Aldrich's relevance with his time with Whitesnake and the releases he appeared on.
On February 9th, Snider posed the following question for his 124,000 Twitter followers, "What Whitesnake album of importance did Douglas Aldrich play on? I'm just sayin'." He added in a separate tweet: "I'm tired of musicians who joined famous bands after their heyday claiming they are from those bands. They had NOTHING to do with success!"
Aldrich responded with the following tweet, "Dee Snider, dude, I just did my best to keep the band moving forward. Was blessed to compose 30 tunes. You are a total jackass though. Haha!"
Aldrich then appeared on the February 16th edition of Eddie Trunk's SiriusXM satellite radio show, Eddie Trunk Live, where he elaborated on his exchange with Snider and what he really thinks about the Twisted Sister singer.
Aldrich said, "We've done gigs together — Twisted and Whitesnake — [but] I never really met Dee that I can remember. We've done a couple of tribute things together where we did… I think we did [Ozzy Osbourne's] Crazy Train for a tribute record together and it turned out pretty cool. But I've got no problem with the guy."
He added that Dee's original tweet "hit me out of the blue. I was up late scouring eBay, looking for old guitars, as I do at night a lot, and I got a message that Dee had posted something. And I went on there, and I was just, like, 'That is just bizarre, man. What is up with that?' Normally, Dee… Everybody knows Dee is a super-smart cat, he's a huge star, and… I just thought, 'This is weird.' It was, like, he was not educated at all and just kind of spouted out this thing. So I just tried to educate him a little bit of where I came from with Whitesnake and then I just tagged it with a little smackdown quick."
According to Aldrich, he is not looking to gain any publicity from a public war of words with Snider. He continued, "[After] the Dee thing happened, somebody said that he said that I was getting all this fame, or something, from his tweeting about me. And I don't give a s–t. I don't want that kind of press. I mean, I felt like I was in a tabloid for a second.
The thing of it is… Look, man, everybody knows what I've done with Whitesnake, I'm super proud of what I did with Whitesnake, and I definitely put my stamp on the band. It's unfortunate that I couldn't work it out schedule wise and I had to leave, but I'm very proud of what David [Coverdale] and I did, and David is my bro. It's all good. Dee can talk about other guys to them, but he was talking about me and Whitesnake, and he didn't know what he was talking about."
Doug continued, "The bottom line is David is Whitesnake, and he's always had great players, and he's got new great players now. But the thing is, I get it, what Dee is talking about. [But] he could have called somebody else out. Calling me out was a mistake. And that's where, if I was Donald Trump [real estate magnate, businessman and host of American reality game show The Celebrity Apprentice on which Snider was a contestant], I'd tell him, 'Dee, you're fired.' [Laughs]"
Aldrich also defended his right to use the Whitesnake name when promoting his current projects. He explained, "You look at sports, and you look at, for example, the [New England] Patriots, and [quarterback] Tom Brady, and what he's done… I'm not comparing myself to Tom Brady by any stretch — it's nothing to do with that — but it's, like, an example… Okay, in a few years, maybe Tom Brady goes away and they get a new guy. Listen, man, the Patriots were famous before Tom Brady, and the Patriots will be famous after Tom Brady, but when Tom Brady goes to do a signing, he's gonna go, 'Tom Brady of the Patriots,' right?! And that's exactly what I do."
He adds, "I love [Dee's] singing, I love the early stuff he did. I was just rocking out with my boy in the car to 'I Wanna Rock' and those videos are classic. But, I mean… I get the point that he's saying… It's businesss, man. All these guys… There are a lot of guys out there that are not like Dee, and they are guns for hire. They've gotta do what they've gotta do, and they may use a name. But I definitely do no take liberties with… I pay full respect to David and what he's done, but I also know that most people who know me know me 'cause of David and Whitesnake. So that's what I would say: I'm formerly of Whitesnake."
Aldrich left Whitensake in May 2014, explaining in a statement that he "had several recording and live commitments, so [he] needed a more flexible schedule to conclude these before going full force as normal." He added: "Unfortunately, my schedule was not workable."
The guitarist is currently in band with bassist Jack Blades (Night Ranger, Damn Yankees) Deen Castronovo on drums/vocals (Bad English, Journey, Ozzy Osbourne) called The Revolution Saints. Their self titled debut album will be released on February 24th. To listen to the song Turn Back Time click here and to listen to the song Back On My Trail, click here.
source: blabbermouth.net