GUITARIST DOUG ALDRICH DISCUSSES THE DEAD DAISIES REVOLVING LINE-UPS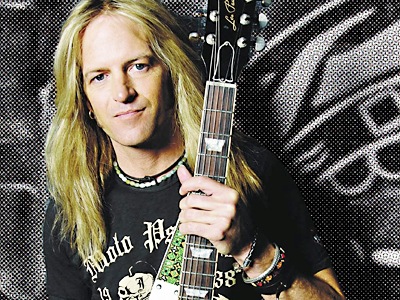 Ruben Mosqueda of KNAC. com spoke with guitarist Doug Aldrich about The Dead Daisies, excerpts from the interview appear below.
KNAC. com: The Dead Daisies had solidified a line-up that was loved by the fans and you managed to release a handful of records with the line-up. Having said that, the Daises is meant to be a band where there would be a revolving door of players. You had John Corabi, who is a hell of a singer, and Marco Mendoza, who is a killer bass player and also a great singer in his own right. They left, how did the remaining guys in the band deal with the departures?
Aldrich: Like you said, it's kind of been set-up that way. The band went through a number of people before the band had a set line-up. Like you said, in recent years it's been pretty solid. It's similar to the original Deep Purple, people came and went. They had a hit single with Hush then they had Mark II, Mark III and so on and so forth. I think this is Daises Mark IV.
KNAC. com: How did you personally work with the departures?
Aldrich: It hit me a bit as a shock that John [Corabi] wanted to sit out. He had been writing, recording and touring with them for a year or two prior to me joining the band. I think John just got a little burned out with it and he wanted to do his own thing. John has been my friend since we were kids. I've known John. I've known all of the guys for years. I think that's what has made this work is that we know each other and we're all friends. Marco [Mendoza] had probably been there for the longest time. He has been pursuing a solo career and he has been very excited about that. Marco was at a point where he wanted to step back and continue to pursue his solo career. As you know, Marco is a great performer, bass player and frontman.
When the opportunity came to work with Glenn [Hughes] I thought it was perfect. Again, we're friends, I've known him for years, I have worked with him in the past…I didn't think of Glenn. It was our management who said that they were thinking of Glenn and had spoken to Glenn, we were told that he was excited about the possibility. I was asked to give him a call. I did and the first thing that he said was, "Doug, I think it's time you and I make some music together from scratch." It's been all around a win-win, everyone is happy, it's amicable. Of course, you don't want to see change or make change, but this is a huge thing for the band…
KNAC. com: How crazy that you've been in bands with two Rock & Roll Hall of Famers? Meaning Coverdale and Hughes from Deep Purple.
Aldrich: [laughs] I find me pinching myself. I've been super lucky bro. I started out with THE greatest heavy metal singer ever–Ronnie James Dio. It's crazy. I've been under the umbrella of [Ritchie] Blackmore's discoveries. [laughs] It's incredible and I'm so grateful. You have all the people who went to Rainbow and then went to Whitesnake. If you would have told me back when I was buying their records that I would be in a band with each of those guys I wouldn't have believed you. What great singers and frontmen. They're all so distinctive.
KNAC.com: You just released the first single for the album back in the spring of 2020. I assume the record was delivered well into the COVID-19 pandemic and you waited and waited. In the meantime did you have any urges to change things around? Maybe take out a song or change something around?
Aldrich: That's a really good point. It's hard because you always hear stuff and want to go back and change certain things. We're perfectionists. I am for sure. I know Glenn is. It's hard to let it go sometimes. What helped is that we kept writing during COVID. We have some more material that we're really excited about as well.
KNAC.com: How will you be approaching the set once you get the green light to hit the road? You have a lot of material to pick from, but Holy Ground is such a solid album that you could feature most of that album and I don't think you'd get many complaints. You are still building this thing little by little in North America. I'm excited to see this live.
Aldrich: I think we're featuring the new stuff the most in the set. I don't know that for a fact, but that's what has happened over the years, the new stuff is featured prominently then some stuff from the Jon Stevens era was added in there too. I'm excited for the fans to hear the new material live for sure, but also the classic stuff with a new treatment with Glenn on vocals. John is a great performer and I love his voice and the way he sings. I also love the way Glenn sings and performs. I think fans will love Glenn's take on songs like Make Some Noise, Longway To Go or Lock 'N' Load. We'll see what happens. I have no expectations, it's a new album with a new singer—we definitely want to feature that. We're chomping at the bit to get out and play for people. This pandemic has just been brutal. I'd just like to say that music isn't just what I do for a living and put food on the table but it's great for my mental health. Listening to music is a great escape from what is happening in the United States. Playing music is another escape and to be able to work from home to a degree has been great too. I thank you for what you do to keep people's minds occupied on other things. Thank you for your support and for spreading the word about the record.
Read more at KNAC.com.
To read more about the Dead Daisies' new album Holy Ground and to listen their first single, Holy Ground (Shake The Memory), please go here.