GUITARIST ACE FREHLEY SAYS WORKING WITH HIS FORMER KISS BANDMATE, PAUL STANLEY, ON HIS COVERS ALBUM WAS, "A LOT OF FUN"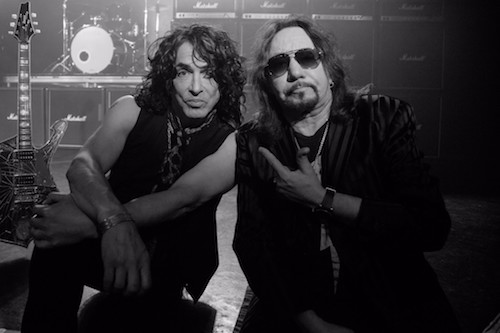 As previously reported, KISS frontman Paul Stanley appeared on his former bandmate, Ace Frehley's covers album, Origins, Vol. 1. Stanley sings, and appears in the video of Free's, Fire and Water.
Todd Van Luling of the Huffington Post caught up with Frehley, who was promoting his upcoming October performance at Rock Carnival in New Jersey, to discuss the reunion. Portions of the article appear below.
Frehley was happy that his partnership with Stanley made so many headlines. The two even got along more or less. "We're both professionals and seasoned professionals at that, so the whole process [was] really painless and a lot of fun," said Frehley. "I just said, 'Bring a couple different outfits, I'm going to bring a couple different outfits.' But you know, we're usually on the same page."
Of course, the reunion was still unexpected for Frehley. "I was really surprised how receptive Paul was," admitted Frehley. "How great the process was and fun and just a pleasure working with him again…"
…"Well, [the founding KISS members are] not sort of brothers, they are brothers in rock 'n' roll," said Frehley of how he still has love for his former band. "Me, Paul, Peter and Gene started something really special that's endured to this day. Even though I'm not playing with the band at this time, it's …" Frehley paused for a laugh and then continued, "It's a rock n' roll circus."
Read more at Huffington Post.
source: huffingtonpost.com