GUITARIST ACE FREHLEY LISTS HIS TOP KISS GUITAR SOLOS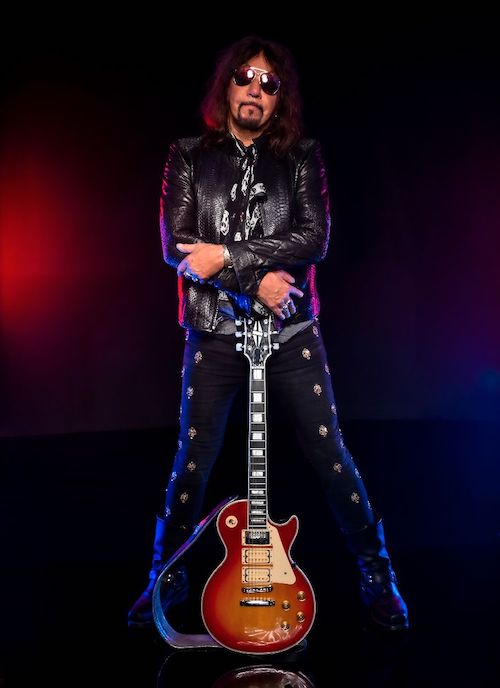 Greg Prato for Songfacts spoke with guitarist Ace Frehley about his top guitar solos in KISS and explains what drew him to some of the songs he covered on his Origins Vol. 2 album.
Good Times Bad Times by Led Zeppelin:
That was the first Led Zeppelin song I ever heard on record because it was the first song on Led Zeppelin I. I was lucky enough to see Led Zeppelin's first New York appearance at the Filmore East when I was a teenager – they were opening for Iron Butterfly. They just blew me away. I knew from the minute I saw them that they were going to be huge. And of course, we all know the history behind Led Zeppelin.
Jumpin' Jack Flash by The Rolling Stones:
I've done several covers of Rolling Stones songs over the years. I probably could have sang it, but I wanted to get a different twist on that song, so I called up Lita Ford, who is a good friend of mine. She sang Wild Thing on Origins Vol. 1. She came over for the weekend, and I coached her on that vocal. I got a really good vocal performance out of her. I was just thrilled with the end result.
I'm Down by The Beatles:
That was a song I always loved by the Beatles because it was not really that indicative of a Beatles song. Most of the Beatles songs had three-part harmony and were well put together and well-written, but I'm Down was more of just a kick-ass rock n' roll number more in the vein of Chuck Berry.
I gravitated towards that song. I didn't realize it was written in 1965… it's a long time ago. But I got John 5 to play the guitar solo on the opening and he did a wonderful job.
Manic Depression by the Jimi Hendrix Experience:
I've been friends with Bruce Kulick for years. We did the Kiss Kruise several years ago together – his band was on the cruise with my band and several other bands. When Bruce found out I was doing Origins Vol. 2, he expressed interest in performing on it. We're both Hendrix fans. He picked Manic Depression and we tracked it, we sent it to him, and he did a great guitar solo on it. Then we "riffed out" towards the end of the song, during the fade. I was really happy with what he did.
She by KISS:
My live band had been performing She before the pandemic hit. My record company called and said, "We need a KISS bonus track," so that was the first song that came to mind. The guys in my band all sing lead, so I let them sing lead on that song live. It gave me a chance to showcase my touring band on this record. I was really happy about that – they did a great job.
Songfacts: Which are your top five guitar solos in KISS?
Ace Frehley: The solo in Deuce, Shock Me, Strange Ways. I like the solo I did in God Of Thunder – it was just a different type of solo. Gene used to call it "dinosaur bends" when I would bend the strings really heavy – the low string. And maybe the solo in the live version of Rock And Roll All Nite – it's just a nice, Chuck Berry kind of solo. Reminiscent of older rock n' roll songs.
Read more at Songfacts.
Ace Frehley's Origins Vol. 2 will be released tomorrow (September 18th) . Pre-orders are available at acefrehleyorigins.com. Origins Vol. 2 is the followup to 2016's Origins Vol. 1, which hit #23 on the Billboard Top 200 chart, and was his second highest-charting solo album and his 4th Top 40 album.