GHOST RELEASE VIDEO FOR "SPILLWAYS," NORTH AMERICAN TOUR STARTS AUGUST 26TH IN SAN DIEGO, CA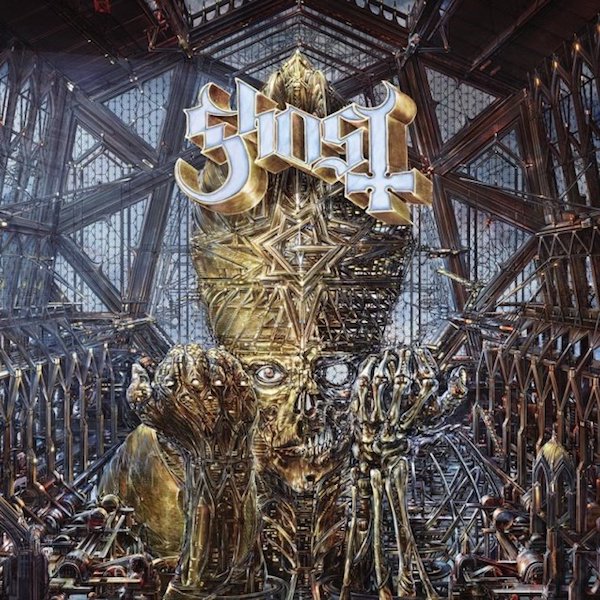 Ghost have released a music video for Spillways, rendering the irresistible earworm of the band's latest single in majestic visual form courtesy of director Amir Chamdin.
Ghost's Tobias Forge told Metal Hammer magazine about Spillways: "This is an elegy for the darkness that most people have inside. When you have a dam, spillways are the run-offs so the dam won't overflow. That darkness inside us needs to find its way out."
The song is taken from the band's fifth album, Impera, which was released on March 11th. To read more about this release, and to view the video for the first single, Call Me Little Sunshine, please click here. To view a lyric video for the song, Twenties, please go here.
Ghost will launch a North American leg of Imperatour next month. They will headlining 19 arenas across the U.S. and Canada (plus an appearance at Virginia's Blue Ridge Rock Fest), starting August 26 at San Diego's Pechanga Arena and running through September 23rd at the Resch Center in Green Bay. Support on all dates (with the exception of Green Bay which will feature support from Carcass, and the Blue Ridge Rock Fest)  Mastodon and Spiritbox.
Ghost Imperatour tour dates:
August:
26 Pechanga Arena San Diego CA
27 Tuscon Convention Center Tuscon, AZ
30 Moody Center Austin, TX
31 American Bank Center Corpus Christi, TX
September:
2 Von Braun Center Arena Huntsville, AL
3 Gas South Arena Duluth, GA
4 ExploreAsheville.Com Arena Asheville, NC
6 Yuengling Center Tampa, FL
8 Blue Ridge Rock Festival 2022 Alton, VA
9 Cure Insurance Area Trenton, NJ
10 UBS Arena Belmont Park, NY
12 Dunkin' Donuts Center Providence, RI
13 Cross Insurance Center Bangor, ME
15 Centre Vidéotron Quebec City, Canada
16 Place Bell Laval, Canada
17 Coca-Cola Coliseum Toronto, Canada
19 Dow Event Center Saginaw, MI
20 Covelli Centre Youngstown, OH
21 Peoria Civic Center Peoria, IL
23 Resch Center Green Bay, WI