GEOFF TATE TAKES HIS NEVER-BEFORE-SEEN "BIG ROCK SHOW HITS TOUR" ON THE ROAD FOR 28 DATES IN THE STATES BEGINNING DECEMBER 1ST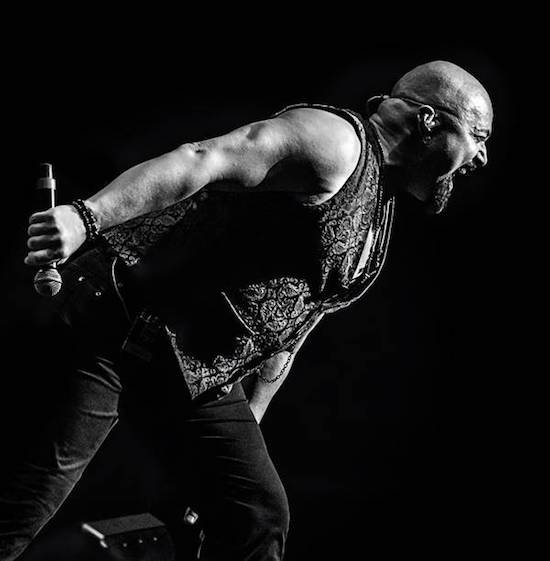 Beginning December 1st, Geoff Tate — the multi-platinum selling, Grammy-nominated singer/songwriter best known for his thirty-plus years as the creative and driving force behind the progressive metal band, Queensryche — will be taking his Big Rock Show Hits Tour on the road for the very first time. In what is expected to be the most visually-stimulating stage show of his solo career, Tate and his international band of brothers — featuring guitarists Kieran Robertson from Scotland, James Brown from Ireland and Alex Hart from Boston along with bass player Jack Ross from Scotland, keyboardist Bruno Sa from Brazil and drummer Danny Laverde from Cincinnati — will be hitting 28 cities across the United States including Cleveland, Los Angeles, Phoenix, Dallas, Houston, Denver, Nashville and others on an initial tour leg that will culminate on Geoff's birthday (January 14th).
Not one… not two… but three guitar players.
It'll be big… it'll be loud… it'll be fun." says Tate, who proudly notes that the new year will be kicked off by eleven consecutive performances. "We can't wait to premiere this show."
Armed with a catalog of songs that have resulted in album sales exceeding 20 million units worldwide in a four-decade span, Geoff is looking forward to bringing his Big Rock Show Hits Tour to the music masses. Among the selections will be such songs as Silent Lucidity, Jet City Woman, Eyes of a Stranger, Another Rainy Night (Without You), Empire, I Don't Believe in Love, Walk in the Shadows and a few surprises…
Just five days after their last U.S. show in January, the band will be embarking on a 30th Anniversary of Empire trek that begins in Rio de Janeiro, Brazil on January 19th, then heads off to Europe for two weeks, quickly followed by three shows in Australia. After "the land down under," they'll return to Europe for a variety of shows that will last through mid-March. They'll return in early June for another extensive European tour.
Geoff Tate's Big Rock Show Hits Tour 2022-2023:
(*Mark Daly will be opening the shows)
 December:
1 – Beachland Ballroom & Tavern in Cleveland, Ohio
2 – Blue Note in Harrison, Ohio
3 – The Machine Shop in Flint, Michigan
4 – Arcada Theatre in St. Charles, Illinois
7 – Whisky A Go Go in West Hollywood, California
8 – Ramona Mainstage in Ramona, California
9 – Celebrity Theatre in Phoenix, Arizona
10 – Count's Vamp'd Rock Bar & Grill in Las Vegas, Nevada
12 – Sunshine Theater in Albuquerque, New Mexico
14 – Tower Theatre in Oklahoma City, Oklahoma
15 – House of Blues in Dallas, Texas
16 – House of Blues in Houston, Texas
17 – The Aztec Theatre in San Antonio, Texas
18 – Antone's Nightclub in Austin, Texas
20 – Bluebird Theater in Denver, Colorado
21 – The Depot in Salt Lake City, Utah
January:
4 – Lafayette's Music Room in Memphis, Tennessee
5 – The Basement East in Nashville, Tennessee
6 – The Concourse in Knoxville, Tennessee
7 – 37 Main in Avondale Estates, Georgia
8 – The Cameo Theater in Bristol, Virginia
9 – Gunter Theatre at the Peace Center in Greenville, South Carolina
10 – Neighborhood Theatre in Charlotte, North Carolina
11 – Ponte Vedra Concert Hall in Ponte Vedra, Florida
12 – The Ranch Concert Hall and Saloon in Fort Myers, Florida
13 – Capitol Theatre in Clearwater, Florida
14 – Amaturo Theater at The Broward Center for the Performing Arts in Fort Lauderdale, Florida
Full 2022-2023 tour link: geofftate.com/full-tour-list.
Never one to be idle, Geoff hit the musical landscape running shortly after his 2012 split from the immensely popular band he fronted since 1982. In 2014, he embarked on his farewell tour as Queensrÿche and, by the fall, began his new musical venture as Operation: Mindcrime. The following year would see the release of The Key, the first album in a trilogy that would be followed by 2016's Resurrection and completed by 2017's The New Reality. All three albums were supported by extensive tours of the United States as well as international tours. In 2018, Geoff's band, Operation: Mindcrime, hit the road to perform the Queensryche album of the same name in its entirety from beginning to end. Still considered one of the greatest heavy metal concept albums of all time and a show Geoff loves to perform and fans love to witness. The year 2019 would mark Geoff's second collaboration with Tobias Sammet's Avantasia (Moonglow album: also featured on 2016's Ghostlights) and his first with Sweet Oblivion that would result in a self-titled debut that year and a following album in 2021, titled Relentless. Of course, many-a-tour date entwined these releases with 2022 starting off with a 30th Anniversary of Empire Tour where Geoff and the band performed the epic Queensryche albums Empire and Rage for Order back-to-back in their entirety. Always the road warrior.