FOZZY RELEASE VIDEO FOR LATEST SINGLE "SPOTLIGHT," FEATURING DRONE SHOW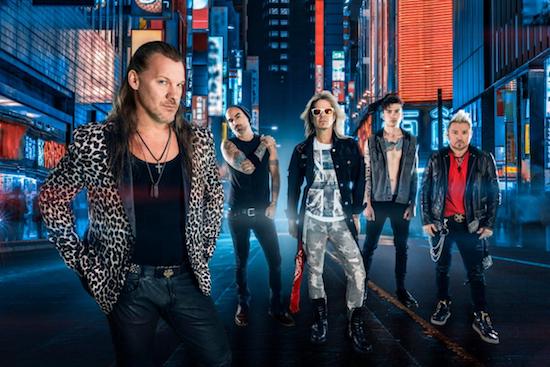 Fozzy have released a new single called, Spotlight, listen to it below.
With the superstar showmanship of frontman Chris Jericho, tag-teamed with guitar genius Rich Ward, Fozzy is a band that has always pushed the boundaries both sonically and artistically over its 20-plus-year career. From performing three shows across America in one day to filming a music video on one of the fastest hair-raising roller coasters in the world, the band lives up to its reputation again with the Spotlight clip.
Never falling short in creating innovative, imaginative videos, Spotlight is no exception in the Fozzy universe. Filmed by Exceleration Media and Firefly Drone Shows, the groundbreaking video features hundreds of live drones that light up the night sky to co-star in this first ever drone show music video. It's a full-out assault on your eyes, ears, brain, and remaining senses, as Jericho braves the elements.
To fully capture the magnitude of the night flying drones for the video, Fozzy's creative team brought the concept to Firefly Drone Shows, who are recognized as the innovation leader in the drone light show industry.
Firefly Drone Shows co-founder Ryan Sigmon explains, "The concept was to design an exciting drone show based on the Spotlight lyrics, and bring the drone performance to life directly behind Chris Jericho. The end result is a thrilling music video that took months of planning and programming to make possible."
Ward says, "When we came up with the concept of doing a drone show video, we knew the only person who could pull this off was Chris. Who else could conduct hundreds of drones to streak through the sky while creating images 800 feet tall and over 1000 feet wide? Bringing a music video concept to life, especially one that has never been pulled off before, can be challenging because of the multitude number of unknowns. With that said, it was completely worth the challenge and we hope you enjoy Spotlight as much as we enjoyed making it."
Jericho states, "On the heels of our fifth consecutive top ten hit I Still Burn (listen here), our new song Spotlight pushes the boundaries of Fozzy's sound while still retaining the punch and maximum riffage you've come to expect. And with the Fozzy mindset of the triple-hook rule, I still can't stop humming the damn thing after dozens of listens. This is going to be the perfect tune to sing along to live and in your car for a long time to come! It's time to turn on the spotlight."
The band's latest album, Boombox, came out in May 2022 and featured the song I Still Burn, which recently eclipsed two and a half million views on YouTube. It also included the Top 10 singles Nowhere To Run (listen here) and Sane (listen here).