FOZZY UNLEASH THEIR INNER FIRE WITH MUSIC VIDEO FOR  "I STILL BURN," NEW ALBUM "BOOMBOX" OUT MAY 6TH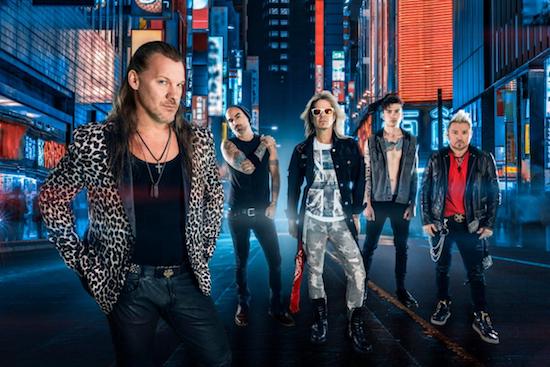 More than two decades into their journey as an unrelenting force of Rock n' Roll dreams come true, Fozzy are enjoying the biggest peak of their career to date! Last month, the band released their new single, I Still Burn, which quickly became the number one added song on rock radio…and today they release the visually explosive new video for the song, a critically acclaimed short film, that is as artistic as it is exciting, watch it below.
Speaking about their new single, frontman Chris Jericho comments:"I Still Burn is the story of the dreams, the passion and the fire that lies within all of us to be the absolute best we can be…and to do WHATEVER it takes to achieve the goals that make our dreams come true! The sacrifices, the losses, and the triumphs that we have all experienced make up the lyrical DNA of this song. I Still Burn is Fozzy's mission statement, our life's work and our destiny…and we are so proud to share this message of victory with our Fozzy family! Plus, Rich's guitar solo f–kin rules!!!"
Rich Ward (lead guitar) adds, "My entire career has been about pushing to the summit of the climb, never satisfied with boiling water with the Sherpas at Base Camp 2. I've been touring and making records for three decades, and I remain as passionate as ever. I Still Burn is the story of the fire that fuels that passion. This is our story!"
The new album from Fozzy, Boombox, will see a May 6th release via Sony Music. Pre-order for the record is available here.
Fozzy Save The Word 2022 U.S. tour dates w/ special guests GFM, KrashKarma, and The Nocturnal Affair:

April:

8 – Portland, ME @ Aura
9 – Hampton Beach, NH @ Wally's
10 – Providence, RI @ Fete Ballroom
11 – New York, NY @ Gramercy Theater
14 – Asbury Park, NJ @ Stone Pony
15 – Stroudsburg, PA @ Sherman Theater
16 – Wilmington, DE @ The Queen
17 – Poughkeepsie, NY @ The Chance
18 – Leesburg, VA @ Tally Ho Theater
28 – New Orleans, LA @ Southport Music Hall
29 – Houston, TX @ Warehouse Live
30 – San Antonio, TX @ The Rock Box

May:

1 – Austin, TX @ Come And Take It Live
2 – Dallas, TX @ Amplified Live
5 – Los Angeles, CA @ The Whisky A Go-Go
6 – Garden Grove, CA @ Garden Grove Amphitheater
7 – Roseville, CA @ Goldfield Trading Post
8 – San Francisco, CA @ Great American Music Hall
9 – Reno, NV @ Virginia Street Brewhouse
12 – Colorado Springs, CO @ Sunshine Studios
13 – Denver, CO @ Oriental Theater
14 – Wichita, KS @ Temple Live
15 – Ft. Smith, AR @ Temple Live
16 – Sauget, IL @ Pop's