DEF LEPPARD FRONTMAN JOE ELLIOTT ON "THE STADIUM TOUR, "IT'S TOTALLY UP TO US NOT TO SCREW IT UP"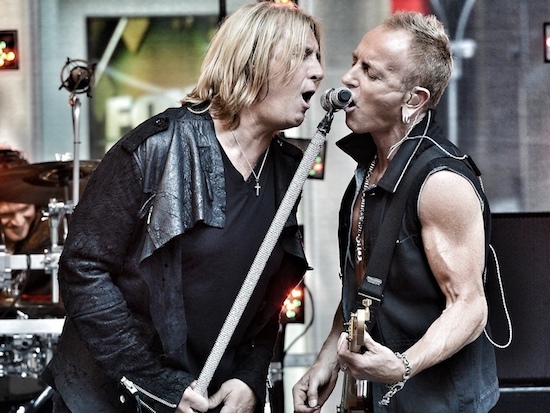 Greg Prato of Heavy Consequence spoke with Def Leppard frontman Joe Elliott and guitarist Phil Collen, excerpts from the column appear below.
Oh the band recording their new album Diamond Star Halos, due may 27th, Elliott said, "We rapidly came up with this whole new plan of recording remotely. Because in the 40 minutes that me and Phil spoke [in March of 2020], we figured out that he'd written two, he'd co-written two that weren't even planned for a Def Leppard record but he'd just written them anyway. I'd written three, and there was an old song of Phil's that I'd been dying for us to do, so I threw that into the pile. And I think because it was so uniquely different, like, 'OK, this is kind of exciting, really – that we've opened up all our avenues of exploration…'"
…According to Collen, the album's first single — the anthemic Kick [Dana's note: the official video can be seen below] — was a last-minute addition. "Sav [bassist Rick Savage] got back immediately [after hearing an early working of the song], and said, 'Sugar, anyone?' Because Pour Some Sugar on Me was the last track we did for Hysteria. We essentially had finished the album, and Joe had come up with Pour Some Sugar on Me, and that got recorded in 10 days. So, we'd done this one fairly quick, as well. Everyone started putting their parts on Kick, and it absolutely was — and is — a Def Leppard song."
Collen continues, "I based it on kind of a Slade / Gary Glitter / T. Rex / Mott the Hoople type thing…[and] Queen have been an aspiration for us. We've always used them as a blueprint…"
As for the much anticipated The Stadium Tour, which also includes co-headliners Mötley Crüe along with Poison and Joan Jett and the Blackhearts, Elliott says, "We find ourselves now in this fantastic position where, literally, the world is our oyster. It's totally up to us not to screw it up. We've got all the tools in place — we know each other so well, we've got a great legacy and collection of songs, we've got a brilliant new album, and we know how to entertain a stadium audience because we've done it before. It's just a joy to be in that situation and it's something we're really, really looking forward to."
Read more at Heavy Consequence.
To read more about details about Def Leppard's forthcoming album, Diamond Star Halos, please click here and to purchase tickets to the The Stadium Tour, go to Ticketmaster.