FOURTH ANNUAL "BOWL FOR RONNIE" RAISES $74,000 FOR DIO CANCER FUND, EDDIE TRUNK'S TEAM TAKES FIRST PLACE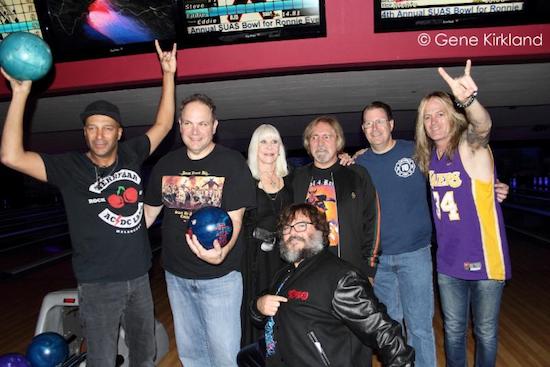 The Fourth Annual Bowl For Ronnie Celebrity Bowling Tournament, benefiting the Ronnie James Dio Stand Up and Shout Cancer Fund held on October 25th, 2018 at Pinz Bowling Center in Studio City, California was once again sold out in advance. This year's event brought in $74,000 for the music-based organization that has been raising awareness and much-needed funding for cancer research since 2010.
Over 300 rockers, bowling enthusiasts, DIO fans and Dio Cancer Fund supporters made up the capacity crowd with the event hosted by broadcast personality Eddie Trunk, who is heard on SiriusXM's Volume channel and whose TV series TrunkFest airs on AXS-TV.
First place went to Eddie Trunk's celebrity bowling team, who included: Jack Black, Geezer Butler, Doug Aldrich, Adam Jones and Tom Morello, who once again brought his own bowling ball. Also joining Eddie's team was, Steve Prziborowski of San Jose, California, who won the Ebay auction to participate on Trunk's winning team.
Second Place in the celebrity category went to the Round Hill Music Publishing sponsored team comprising musicians Marc Ferrari, Fred Coury, Brett Scallions, Richie Kotzen and Gilby Clarke and Round Hill'sTami Lester. 3rd Place went to the team comprising Damon Fox, Calico Cooper, Marty O'Brien, Chris Latham, Howie Simon and Jed Williams.
For the third year in a row, Dio Cancer Fund supporter Scott Courtright won the Dean Schachtel Award–named for the late Dio Cancer Fund board member–for the highest overall bowling score (see full list of winners below).
The Dio Cancer Fund presented a check for $61,000 to Dr. David Wong and his research team from the Dental Research Institute at the University of California, Los Angeles where they are developing a non-invasive saliva test for early cancer detection. This money will fund the gastric cancer research of team member Dr. Karolina Kaczor-Urbanowicz for the coming year. Dr. Wong believes this simple test will receive FDA approval and become available for medical use within the next two years. Information about Dr. Wong's research is available here.
2018 Bowl For Ronnie winners are as follows:
1st place celebrity team – Eddie Trunk, Jack Black, Geezer Butler, Tom Morello, Adam Jones, Doug Aldrich and auction winner Steve Prziborowski
1st place corporate team – Zappa Entertainment
Ahmet Zappa, Diva Zappa,
2nd place celebrity team – Marc Ferrari, Fred Coury, Brett Scallions, Richie Kotzen, Gilby Clarke and Tami Lester of Round Hill Publishing
2nd place corporate team – Metal Blade Records
Vince Edwards, Ryan Williams, Matthew Taylor, Dan Fitzgerald, Rita Haney and Suzy Cole
3rd place celebrity team — Damon Fox, Calico Cooper, Marty O'Brien, Chris Latham, Howie Simon and Jed Williams
3rd place corporate team – Rick Sales Entertainment
Rick Sales, Emma Humphreys, Larissa Giampaoli, Ernie Gonzalez, Sam Pascoe, Jen Jacobs-Anderson and AJ Anderson
Highest Overall Score/Dean Schachtel Award –
Scott Courtright *3rd year in a row